UK solar demand looking healthy in the longterm
Research data is pointing to a healthy longterm future for solar photovoltaic demand with the news that the UK is on course to smash the 1 GW threshold for the first time, NPD Solarbuzz is reporting.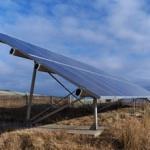 In the global solar industry the news confirms the UK's status as one of the up and coming markets, with end market growth remaining strong in spite of ongoing negative press, with some sectors of the British media taking a negative approach to any form of renewable energy.
It's positive news for the UK solar industry, which has seen a significant fall in demand for solar PV during the second quarter of 2013. According to NPD Solarbuzz figures, while demand for solar PV stood at 520MW in the first quarter, in the second quarter demand reached just 282MW. That's a 46% drop.
Several contributing factors to the fall could include April's cut to ROC (Renewable Obligation Certificate) incentives for large ground mounted PV systems – which was reduced from 2ROCs to 1.6ROCs – and the EU trade dispute over cheap Chinese solar PV panels, which saw the market endure some uncertainty due to the temporary halt of imported shipments from China back in April and May.
As it stands to date the cumulative total of solar PV installations is more than 2.7GW. It's good news for the domestic PV market as homeowners continue to reap the benefits and savings of solar panels. While residential solar PV panel installations continue to take up the largest share with 50%, ground mounted PV accounts for 28% and 22% for commercial rooftops.
Dominating the level of UK installed solar capacity are solar farm developments, with 106 1MW or more ground mounted installs taking place in the first six months of the year. Of that, over 50% of these solar farms have an installed capacity of 5MW or more.
According to NPD Solarbuzz research with more than 1.5GW of solar farms currently on the cards the UK looks set to maintain a healthy top-10 market ranking beyond 2013.