Solar PV installations in UK surpass 2GW mark
Despite a trying year for the UK solar industry, which was riddled with uncertainty, demand for solar PV panels in 2012 was surprisingly stronger than the previous year with photovoltaic installations surpassing the 2GW mark.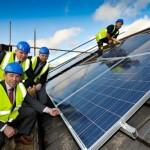 According to Solar Power Portal, one of the UK's leading portals for solar energy news, solar performed strongly last year in spite of cuts to the Government's feed-in tariff which were announced towards the end of 2011. The website refers to a yet-to-be-published report from NPD Solarbuzz, who have been conducting research and analysis of the solar market since 2001.
The NPD Solarbuzz Marketbuzz 2013 report solar far exceeded expectations, thanks largely to the falling cost of solar panels, stable and attractive policies, and a climate that has been deemed to be low-risk for investors. These influencing factors combined helped the UK solar market to hit 965MW.
Finlay Coleville, Vice President of NPD Solarbuzz said: "With demand trending at the GW-level and cumulative PV installs passing the 2GW mark, the UK can now officially be prioritised as a GW-size market by the global PV-supply chain."
The UK made it into the top ten for PV demand in both 2011 and 2013, so it will be interesting to see how the market fares this year.  Unlike Spain, Germany, Italy and France the UK has managed to avoid being hindered by manufacturing setbacks and with the implementation of more stable feed-in tariff and Renewable Obligations demand has been strong for both domestic and larger commercial ground mounted systems.
Solarbuzz is forecasting that overall demand for photovoltaics in Europe is set to decline from a 55% global share in 2012 to 34% by 2015.