Toyota Officially opens its 17,000 Solar Panel Energy Park
Toyota has unveiled its 17,000 solar panel energy park in Derbyshire, which is the size of four-and-a-half football pitches.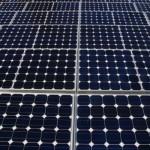 Heralding the start of a green future for the car manufacturer, the array has been built in a field next door to its Burnaston plant in South Derbyshire, and the energy park was officially opened yesterday. Toyota hopes that the 4,600,000 kWh facility will generate enough electricity to build 7,000 cars a year at the site – 5% of the output of the plant – and it will save 2,000 tonnes in CO2 emissions per year.
Costing £10 million, the project has been funded by British Gas. Toyota claims it is the first large car producer in the UK to make use of a large-scale solar PV array.
Tony Walker, the deputy managing director of Toyota Manufacturing UK, said the solar project is a key part of the company's  "sustainable plant vision", which will see their production facilities designed to work in harmony with the local community and the environment.
"Our aim is to be a true eco plant producing eco cars built by eco-minded people," added Mr Walker.
It has also been revealed that usage of solar power has risen more than 50% in three months.