Tees Valley Firm Expands Into Renewables
On the back of a bumper 12 months, a Darlington-based heating and plumbing firm has announced plans to branch out into the renewable energy market.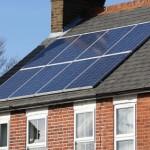 Having seen the company's annual turnover exceed the £1 million mark, Blackwell Heating and Plumbing is to expand its services by offering customers solar panels, air and ground source heat pumps and biomass renewable energy heating systems.
The company – which already employs around 20 people –  is predicting a strong continual growth, as homeowners and businesses look to reap the benefits of financially incentive schemes like the feed-in tariff (Fit) and the Renewable Heat Incentive (RHI).
"The progression into renewable energy felt natural," said Andrew Thomas, who runs Blackwell Heating and Plumbing.
"With this new technology, not only are we helping to save the environment but we are also helping customers save money."
The firm, which already has large contracts with hotels and pub chains – is to create five new jobs ahead of a predicted surge in the interest in renewables, and Mr Thomas said he is confident installing newer renewable energy technologies can save his customers money.