Sharp expands Wrexham-based solar panel plant
Electronics giant Sharp has announced it will spend £30m on expanding its solar panel factory in Wrexham, creating a "substantial" number of jobs according to the firm.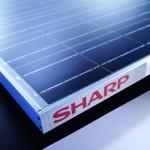 The company said it plans to double production of solar cell modules at the factory based in the village of Llay where 750 employees are already situated.
The solar panel plant opened in 2004 but the Japanese firm says it needs to expand production capacity to meet the ever-growing global demand for solar cell modules.
With many countries chasing emission reduction targets and upping financial backing and incentives for renewable energy like solar power, solar PV panel market requirements are expected to spike. With this in mind, Sharp is looking to double production of its two side-crystalline and thin-film solar cells.
Andrew Lee, General Manager of Sharp Solar, said: "This time last year 99 percent of the modules that we manufactured at Wrexham were exported to Europe and that has already dropped to 90 percent.
"The feed-in tariff has given confidence to manufacturers like ourselves to invest."
Lee also sent a clear message to the government, calling for more support in the renewables market.
"We wanted to prove to the Government and critics that if stability was put in [the UK market] then PV companies would invest in the country," he added.
"We wanted to go further and deliver on our promises such as a solar academy to properly train installers in the UK."
New jobs created by the expansion are expected to be in the several hundred's according to politicians.
Sharp has also confirmed that it is planning to launch higher efficiency cells that will see modules of over 200W available.
The cells are due to arrive from Japan at the close of the year and will include back contacted cells for greater performance. And Lee went on to say that 300W modules are set to be released for next year, too.
The new higher efficiency modules will be manufactured at both the new and the current Wrexham plant and will be phased into production alongside existing lines when shipments arrive.