Tamworth Solar Panel Scheme Hailed a "Terrific Success"
Residents in Whittington, Tamworth, are hailing a scheme designed to make solar electricity affordable for local residents a "terrific success.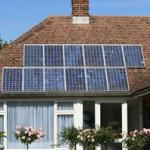 Solar 500 was an initiative launched by two environmental groups, Whittington and Fisherwick Environment Group (WFEG) and Low Carbon Lichfield (LoCaL) at s local Green Fair back in April. Over the last few months, more than 60 roof surveys have been carried out and 20 households have already signed up to have solar panels installed on their roofs.
Lyndon Williams, whose family were one of the first to have eight panels installed on their roof, said they were "thrilled" with the installation.
"At a conservative estimate we expect our total financial benefit to be nearly £800 in the coming year from the feed-in tariff and savings on our electricity bill, and to get our money back in just seven years," he said.
After researching the solar electricity market and carefully vetting proposals from a range of installers, the groups have obtained what they believe to be a market-leading discount offer from installers New World Solar, which takes advantage of the combined buying power of the groups' members.
The two groups, LoCaL and WFEG have estimated that a six panel solar system is now available to purchase for less than £5,000. With the feed-in tariff (Fit) scheme, they maintain it is now possible to recoup the cost of the panels in six to eight years.
The groups are preparing to publicise the scheme across the whole of the Tamworth and Lichfield districts, to try and encourage more homeowners to invest in solar energy.
There will be an open meeting on the "Lichfield Solar Revolution" on 14 July) at 7.30pm at Wade Street Church Hall, in Lichfield, where installers will be on hand to answer  questions.