Swiss Solar PV Specialist Opens Branch in the UK
Tritec, the Swiss photovoltaic specialist is to have a proper presence in the UK solar market, having recently opened a new branch office in Eastleigh, Hampshire.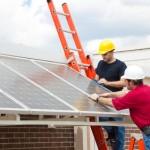 The company has established itself as one of the leading solar PV companies in Switzerland and the firm already operates branches in France, Germany, Austria, Italy and Spain.
Tritec Energy Ltd has autonomously managed numerous major international photovoltaic projects, and they were responsible for the largest roof-integrated photovoltaic system installed on the Football Stadion Stade de Suisse in Bern, Switzerland.
The international wholesaler has been advising specialist tradesmen, roof owners and investors in the planning, designing and implementation of their photovoltaic systems in the UK since May 2011.