Antaris Solar to showcase new eKiss system at Solar Power UK
International solar manufacturer Antaris Solar has announced plans to showcase its new standalone, portable off-grid eKiss PV system at Solar Power UK, a must-attend event for anyone involved in the solar industry.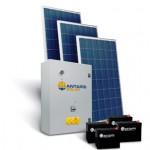 The company is a specialist in the area of solar photovoltaic systems and will be attending the event – which will be held from 2-4 October at Birmingham NEC – to give visitors the opportunity to learn first hand about the eKiss system (which stands for energy – keep it simple & safe) as the German solar panel supplier looks to increase its presence in the UK solar market.
Actions speak louder than words and Antaris Solar has confidence in the future of the UK solar market; recent cuts to the UK's feed-in tariff scheme certainly don't seem to have discouraged the company from its plans to increase its market share. The firm's international sales manager Andrew Moore will be attending the event, which is the largest exhibition to be held in the UK dedicated to solar photovoltaics and solar thermal.
Pop along to stand B36 at the NEC to check out the eKiss system and discover the benefits of the product, which is available in outputs of between 350 to 2,000 watts and includes the peace of mind offered by a thirty-year performance warranty coupled with a twelve-year product warranty; warranties which are amongst the longest in the solar PV industry.
"As we all know, the PV market is challenging these days and politics is doing a good job in creating obstacles that PV companies have to overcome. However, Antaris Solar proves that efficient company structures and international market presence, combined with high quality products, innovation and competitive pricing are the key to success, even when market conditions are challenging," said Mr Moore.
"With our expanding partner network throughout the United Kingdom and our expert British distributors, we are confident that Antaris Solar will grow into the leading German PV supplier in the UK."
Antaris Solar is known for delivering products that are of the highest quality standards backed by maximum reliability and long-lasting performance. The standalone system offers electricity generation and storage in off-grid locations, which comes courtesy of a maintenance free AGM battery. It is great for areas where connection to the electricity grid is less than reliable, so rural areas are especially ideal, and with a mini eKiss system – which is the size of a suitcase – it can be utilised for camp sites, holiday homes and outbuildings, for example.
Antaris Solar has a presence in France, Italy, Switzerland, Africa, the US and the Middle East. Their systems have been granted MCS certification in the UK.