King's Cross station goes green with solar panels
It's one of London's busiest train stations and over the weekend King's Cross switched on its new £1.3 million solar panel system, helping the iconic station boost its green credentials in a big way.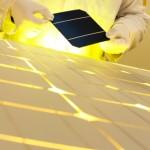 Part of Network Rail's green building programme, the solar panels could provide as much as 10% of the station's yearly electricity needs through the 1,392 solar PV cells which have been embedded into the station's glass roof. Covering in excess of 2,300 square meters, the custom made glass laminate is so tough it has been manufactured to be capable of sustaining even a bomb blast. It's estimated that the 240kW system will produce around 175,000 kWh of electricity and should save 100 tonnes of CO2.
A grade 1 listed building, King's Cross is undergoing a major revamp and the solar PV system is part of a £550 million general overhaul. Described as a labour of love, the project developers faced various issues in pulling off the project, not least the scale of the installation involved which caused numerous technical and aesthetic design challenges. Not to mention that the whole project was undertaken without shutting down the station, which in itself is quite a remarkable achievement, given that King's Cross is utilised by around 40 million people every year.
The largest and most complex building project to feature integrated solar panels, to maximize the amount of electricity produced the panels have been installed in a unique pattern mounting system. The design and installation was carried out by Sundog Energy, while the solar photovoltaic units were manufactured and supplied by Romag with roof glazing specialist ESB Services responsible for installing the PV glass laminates.
"King's Cross is a fantastic example of how renewable technologies can be  integrated into the fabric of a building and is testament to what can be achieved to reduce carbon emissions, particularly in a listed building in an urban area," commented Romag's managing director, Phil Murray.
Martin Cotterell, chairman of Sundog Energy said it was the most challenging and complex project he had ever worked on, adding: "We are very proud of our involvement as we believe the project combines the very best in modern design, technical excellence and sustainability with the grace of one of the UK's most iconic grade 1 listed buildings."