Staggering Volume of Solar Installations During Deadline Week
Last week figures published by the Department of Energy and Climate Change (DECC) revealed the true extent of solar uptake as installers rushed to beat the feed-in tariff deadline, and it was nothing short of amazing.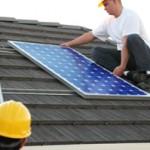 In the week ending 4 December, more than 21,000 solar PV installations were carried out, however the latest official figures have surpassed all expectations. Figures for the period ending 12 December have revealed an even bigger surge than the previous week.
According to the Microgeneration Certificate Scheme (MCS) database, almost 30,000 new solar PV installations were registered under the feed-in tariff (FiT) scheme, with these systems accounting for 125.93MW of the country's solar capacity between 4 and 12 December.
DECC officially announced changes to the FiT scheme at the end of October, and in those six weeks a mind-blowing 351.83MW of capacity has been installed, more than doubling capacity.
Shocked by the level of cuts imposed, nonetheless the solar industry has worked around the clock in an effort to beat the solar subsidy deadline, and these figures prove the extent of their hard work and dedication.