Solar PV Supply Chain Feels the Strain of the FiT Cuts
IMPORTANT notice about this article: Please note that the Feed-in Tariff (FiT) scheme closed to new applications on March 31st 2019.
Since the news broke at the end of October, confirming solar subsidy rates were set to be slashed after 12 December, solar installers have been facing a race against time to meet the looming deadline.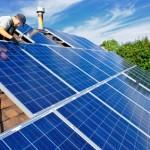 While the inevitable rumours do the rounds – currently one such favourite pertains to the Department of Energy and Climate Change (DECC) being forced to push the deadline back – in the meantime the solar PV supply chain remains under terrific strain.
Unfortunately, by imposing a deadline of 12 December, the Government has only provided a 6 week window in which to get planned solar projects installed and registered at the higher feed-in tariff (Fit) rates. While the solar industry was expecting cuts to be made – although clearly not as severe as slashing rates from 43.3p down to a mere 21p – they certainly were not anticipating being handed a six week deadline to plan, install and register their projects.
Many installers are struggling to cope since the announcement was made, and the deadline has forced a breakdown of the PV supply chain in the UK. From jammed phone lines and installers being forced to work seven day weeks, to product availability near to drying up, the situation is far from pleasant.
While solar installers rush around like headless chickens trying to complete orders in time, most are finding it increasingly hard to get their hands on the products needed to do the job, with many faced with having to pay a premium for inverters which are in short supply.
With warehouses across Europe being emptied at lightening speed, and the December deadline getting ever closer, installers are having to compress the usual four to six week lead in time for modules (three to four weeks in the case of inverters), into just mere days as they try to cope.
The clock is ticking, with only one month to go before the deadline hits. That is unless DECC is forced to bow to industry pressure, and push back the deadline.
Only time will tell. What little of it there is left.