Solarcentury gains planning permission for Somerset solar array
The company has won permission for a 7.6MW extension to its existing 700kWp ground-mounted solar array in Illminster, Somerset.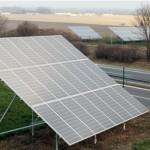 The approval means that a further 31,200 solar modules will be added to the existing 3,000 modules already on the site, covering a further 20 hectares of land. This will make the site one of the largest solar installations in the South West which is already one of the prime regions in the UK for solar power development due to the regions high levels of sunshine.
The proposal was approved with a clear majority by South Somerset District Council. In part, the council was forced to follow government guidance on renewable energy development, despite some reservations among the members. Some local community groups have, however, voiced their opposition to the development with many claiming that the glare from the solar panels would endanger drivers on the nearby A303. The handful of protesters are currently seeking a judicial review against the decision.
"The Council's legal advice was that this application should proceed so it is unclear until we see the details on what basis a judicial review could be granted" a spokesman for Solarcentury said. "Solar Farms became attractive to investors under the FiT scheme and since the reductions to FiTs earlier this year they are now being constructed under the RO mechanism, the same scheme which has formed the support mechanism for large wind projects and other large scale renewable schemes over the previous decade."
The Renewable Obligation (RO) scheme has proved to be increasingly attractive to investors following the cuts in Feed-in Tariffs and the downturn in the residential market those cuts caused. However DECC is currently consulting over slashing the RO banding rate from 2ROC's to 1.5ROC's in March 2013.
"As with all technologies being used to generate renewable energy under the RO, DECC regularly reviews the specific level of incentives and solar PV is under review at this point" the spokesman from Solarcentury said. "As a result we hope that the reduction in the level of support from April 2013 will do no more than reflect falling costs rather than to a level that could act as a brake on the market next financial year. We are expecting the final DECC decision on the level of RO support for solar PV to 2017 to be confirmed next month."
The company says it will continue to focus on large commercial opportunities with the domestic sector primarily being served through Solarcentury's distribution service and installer network.