Solar Saving Estimates Revised by EST
Following a review of solar technology, the Energy Savings Trust (EST) has revised its estimates, in terms of how much money an average household could be expected to save if they were to install solar panels.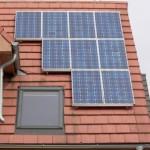 The EST had previously suggested that up to £120 a year could be saved on electricity bills by using the renewable technology. However, they now claim that a typical solar panel installation will cost up to £16,000 and save £70 per year, with up to £800 a year being earned through the feed-in tariff (Fit) scheme.
The organisation had estimated that around half of the electricity generated by domestic solar panels would be used in the home, but now the environmental group believes this figure to be closer to a quarter because the panels only work during the day, during which time most people are at work and not, therefore, using a great deal of energy at home.
"We have always been clear that the people who will benefit most from panels are those who are in during the day, " said Virginia Graham, the chief executive of the REAL Assurance Scheme, a solar panel trade body established by the Renewable Energy Association.
"We are also working with charities to ensure that vulnerable consumers are protected from mis-selling. We would like to see doorstep mis-selling banned because it is an unsuitable way to promote this technology," she added.
The Energy Saving Trust is the UK's leading impartial organisation, which helps people to save energy and reduce carbon emissions.