Electric Vehicles & Solar Panels: Benefits & Savings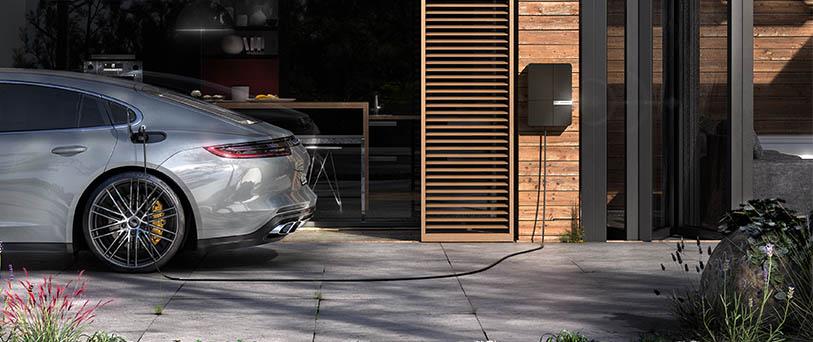 Making the switch from petrol or diesel to an electric vehicle is a good move for both our environment and your wallet, but running an electric vehicle with free solar energy is even better. Is it time for the UK to make the switch to electric?
Even when you're powering an electric vehicle with energy bought from your supplier, it will have zero emissions when driven and your running costs will be cheaper compared to a fossil-fuel powered equivalent.
Both are big incentives to go electric, but they become even more tempting if you're able to generate your own renewable, free electricity with solar panels. We've taken a look at the potential benefits, costs and savings involved in partnering solar panels with an electric vehicle.
---
 
Get Free Solar Panel Quotes:        Get quotes and compare prices.
 
---
Why Drive an Electric Vehicle?
In the past electric vehicles had a reputation for being expensive, limited in range, underperforming and inconvenient to recharge. Once these may all have been fair observations, but the technology has moved on. EVs are growing in popularity all the time and more manufacturers are producing models at affordable prices. They're no longer considered a gimmick or quirky; EVs are looking like the future of transport for several reasons...
Electric Vehicles Will Reduce Our Carbon Footprint
It's well known that electric cars are much better for the quality of our air as they produce zero emissions at the tailpipe, but there has been much debate over the total gas emissions electric cars contribute over their lifetime, i.e. during the construction process through to the scrapping, plus the burning of fossil fuels in the production of the electricity to power them (unless it's generated from renewable technology such as solar or wind power).
However, a recent report by the new European Climate Foundation-commissioned report used 2017 data to demonstrate that replacing a fossil fuel-powered car with an electric model can cut greenhouse gas emissions by half over the course of the vehicle's lifetime. A small EV produces around 15 tonnes of CO2 from construction through to scrapping, compared to an average of 32 tonnes for the equivalent petrol or diesel car.
Electric Vehicles Are Cheaper to Run
Not only are electric vehicles becoming more affordable to buy with every passing year, the cost of charging your vehicle with electricity will also save you money compared to refuelling with petrol or diesel. And if you charge your car with free electricity generated by solar panels, you can save even more money. According to our calculations the average home could save up to £2,783 per year. Find out more about the potential savings of solar panels and an electric vehicle later in the article.
Electric Vehicles Are Cheaper & Easier to Maintain
In addition to having no fuel to buy, there are no oil changes and fewer moving parts to wear out; many electric car owners go years without any repair or service bills at all. Brakes tend to last much longer than they do on a petrol or diesel car. You may have to replace the battery eventually but most EVs include a warranty and some
batteries can last up to 15 years.
Electric Vehicles Are Just as Safe
EVs pass the same safety tests as standard vehicles and many have even scored higher in crash test safety ratings.Tesla Model X for example has a perfect score. It's a common misconception that EVs are a fire risk, but in actuality EVs are far less likely to catch fire than gas cars. On average, petrol or diesel cars will catch
fire at the approximate rate of 1 fire in every 20 million miles driven. For EVs, the rate is 1 fire per 120 million miles driven.
Electric Vehicles Deliver a Great Driving Experience
EVs have a very quick and smooth pickup and high torque power and are well known for how quiet they are from both inside and outside the car.
Ben Vinyard, Technical & Business Development Manager at Waxman Energy Ltd, is on the Distribution Code Review Panel for the grid and was also a contributor to the IET (Institute of Engineering and Technology) battery storage guide. We asked him to share his opinion on the electric vehicle market:
'Electric vehicles are far less of a sacrifice than they used to be. Today, they will drive further, faster and they're getting the premium design treatment. They're no longer an eco-warrior's statement. They're simply desirable. Month on month, the statistics for new EV cars registered in the UK increases. We're at 4.8% at the moment, which is as almost 1 in 20. In less than a year I expect this figure to be 1 in 10.'
Charge at Home
Without a doubt, for those that have dedicated off street parking, charging from home is the most convenient and cost effective way to charge your EV. If you install a home charge point you may never need to stop for fuel again. You simply plug in overnight and get back on the road the next morning. More and more public EV charge points are being installed and one day they will be as common (if not more so) than fuel stations. Charging at home becomes even more of a bonus if you add solar panels to your home which will power the charge point with free, renewable electricity.
Charging Electric Vehicles with Solar PV
Swapping a fossil-fuel car for an electric car with zero tailpipe emissions is a big step towards a greener lifestyle, but if you're powering it with electricity from the grid you are usually using electricity generated from fossil fuels (although an increasing number of energy suppliers are using renewable technologies).
However, if you generate your own electricity from a solar PV system you can cut your carbon emissions even further. A solar PV system will give you a renewable and free electric power source for both your home and your car. The upfront cost of installing solar panels can therefore be looked at as purchasing fuel for the next few years!
IMPORTANT: Solar panels will only generate electricity to charge your EV during the day. If you and your car are at home during the day then you can charge your car directly from the solar PV system. However, if you're one of the many people who is out and about during the day, you'll be missing out on much of the free electricity generated by your panels. To be able to charge your car at night you will also need to install a solar battery which will store surplus solar energy (any energy you haven't used) so you can use it at night. Find out more about solar batteries.
---
 
Get Free Solar Panel Quotes:        Get quotes and compare prices.
 
---
How Many Solar Panels Are Needed to Charge an EV?
Every home and lifestyle is unique, but using some average figures for energy consumption, solar panel capacity and driving mileage it's perfectly possible for a solar panel array to power a home and an electric car.
For example...
A typical 5kW south facing solar pv system will produce an average of 18kWh of solar energy per day from March to October.
A typical UK home that cooks with an electric stove consumes 9kWh of electricity per day on average.
This leaves 9kW of solar PV energy to charge your car. As a typical electric vehicle uses 1kWh of power to travel approximately 4 miles, you'd have enough power to drive 36 miles per day or 13,000 miles per year.
These figures are obviously based on averages and you should always consult an MCS certified (or equivalent) solar installer to assess how many solar panels you need. They will calculate this based on your daily electricity usage, average mileage and what size battery you will need to store the energy generated.
Note: The UK winter brings low levels of sunlight which will often mean your solar panels can't generate enough energy to meet all your power requirements. During these times you'll need to top up with energy from a supplier but your solar panels will still generate some electricity.
How Much Could You Save with Solar Panels & an Electric Vehicle?
Continuing with the average figures (5kW PV system, 9kWh energy consumption and driving 36 miles per day), it's possible to save more than £2,500 in electricity and fuel by replacing a 35mpg diesel car and grid powered home with solar energy.
| | | |
| --- | --- | --- |
| | Average Cost Per Mile | Annual Mileage Cost (13,000 miles) |
| Diesel Car | 15p | £1,950 |
| Grid Charged Electric Vehicle | 4p | £520 |
| Solar Charged Electric Vehicle | 0p | £0 |
Average Cost Per kWh
Annual Electricity Cost (9kWh x 365 days =
3285kWh)
Electricity from the National Grid
15.5p
£509
Electricity from Solar Panels
0p
£0
A vehicle on solar electricity could result is annual fuel savings of £1,950 while a home powered by solar power rather than grid power could save £509. This equates to a total annual saving of £2,459.
In addition, if your solar panels were installed and accepted on to the Feed-in Tariff (FiT) scheme by March 31st 2019, you will be receiving payments for the energy generated by your solar panels for 20 years. The latest FiT rate is 3.86p* per kWh of your total generated energy and 5.24p per kWh for your exported energy (usually estimated at 50% of what you've generated).
Based on a generation figure of 5,000kWh (and therefore an estimated 2,500kWh of exported energy) this totals around £324 per year in FiT payments.
Potential total savings = £2,783 per year.
*Based on the December 2018 rate for standard solar photovoltaic systems receiving the higher rate.
Other financial benefits of electric vehicles include:
You may be entitled to the First Year Allowance (FYA) which means electric and low emission cars are eligible for the first year allowance which enables drivers to claim for up to 100% of the cost. Businesses with electric company cars can claim a year's deduction for the cost of the vehicle and electric vehicles with zero emissions are exempt from the London Congestion Charge.
There are also electric vehicle grants to help you make the change:
The UK Plug-in Car Grant offers a subsidy of up to £3,500 off from the price of your new electric vehicle.
The OLEV Grant provides up to £500 off the cost of purchasing and installing a home charge point.
---
 
Get Free Solar Panel Quotes:        Get quotes and compare prices.
 
---
Buying an Electric Vehicle
There are a few things that you need to know before you decide to go ahead and make the switch to an electric car, especially if you are planning to use solar PV to charge your car. You'll need to be sure to select a car charge point solution that enables effective solar charging, i.e. charging at a lower power rate to suit solar PV production levels and maximum solar battery storage discharge rates.
We asked UK designers and manufacturers of solar compatible electric car home charging points, Andersen-EV, for their advice on buying an electric car.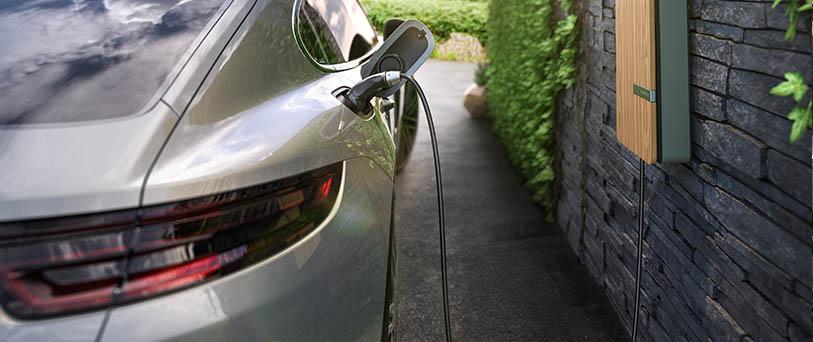 5 Top Tips From Andersen EV
Find the Right Electric Vehicle for You

It seems obvious, but there are now over 45 different pure electric vehicles (EV) or plug in hybrid cars (PHEVs) available to buy or lease. So it makes sense to do your research and find the right vehicle for you. Do you want to go pure electric? Or would a hybrid suit you more? Start by looking at your driving habits and ask yourself how many miles you do on your average journey. How often do you make a journey more than say 150 miles in one direction?

Ultimately it comes down to three things: the range of the car, working out how would you charge it (for example at home, at work, at public charging points or a combination of them) and price. Once you've got that locked, you can delve deeper into your selection process (or example, the way the car looks and size of car etc).

Take Advantage of the Government Grants
The British government is supporting people who want to switch to low carbon motoring. That's great news for customers who can take advantage of schemes including the OLEV, EST and SEAI grants, which apply to the purchase or lease cost of vehicles and the cost of installing home chargers.

You may even be able to benefit from more than one of the grands at the same time. For example, if you live in Scotland you can benefit from a £500 OLEV grant as well as the £300 EST grant. This adds up to a huge £800 saving on your charge point, which makes purchasing an Andersen charge point a no-brainer.

SEAI (Sustainable Energy Authority of Ireland)
EST (Energy Savings Trusts - Scotland)
OLEV( Electric Vehicle Homecharge Scheme for residents of the UK)

Research Your Home Charging Options

Home charging is the most convenient, cheap and popular way to charge your EV. However, with many available on the market, it's worth considering a smart, customisable model such as the Andersen A2, which comes with installation as standard.

Buyers will also need to consider where they can charge their EV. If you fall into the category of not having dedicated off street parking then you will not be able to claim OLEV. Councils do not have a unified position on the issues of people running charging cables from their property and across public pavements to their vehicles.

If you drive to work consider asking your employer to install a dedicated universal charge point. There is a workplace grant scheme grant that offer businesses a hefty discount on charge point purchase and installation. It would also enable businesses to lower their collective carbon footprint, making a cleaner, better environment for their workers.

Find Your Local Public Charge Point

Even if you can reliably charge at home or work it is good to map the location of your nearest public charge points. If you live in an area with lots of EV drivers there is a chance they may be occupied at busy times.

If you're worried that there are no chargers close to you, or too few, you can ask your council to install a charger close to your home. Central government have made funds available to all local councils specifically for the purpose of installing public charge points. However many councils are yet to spend the money. Councils are obliged to consider any application by residents - so don't be afraid to ask - having an EV charger on your street could even improve the value of your property! A simple letter will suffice to get the ball rolling.

Think About Your Energy Bills

The majority of motorists who make the switch from a combustion engine to an EV immediately feel the financial benefits of not paying to fill their tanks with petrol or diesel.

The cost of EV motoring will, however, make a difference to your utility bills if you charge at home. Switching to an affordable, renewable energy supplier, will help you keep the cost of your increased energy use down while maintaining the zero-emissions capability of the car. (Those who power their EVs with carbon-based energy suppliers are still creating emissions via their energy, rather than at the tailpipe).

And for those with solar panels, well this is where it becomes very exciting. Once the stuff of science fiction, powering your car from energy harnessed by the sun has now become a reality thanks to smart EV charge points like the Andersen A2, which can be linked to solar panels in the home.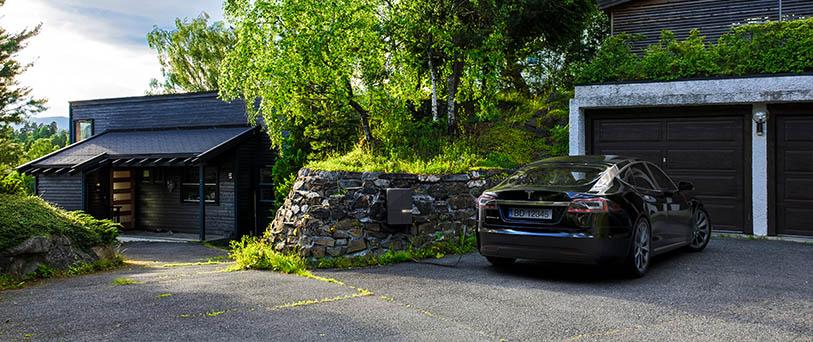 About Andersen EV
Andersen offer stylish and contemporary home charge points for electric vehicles in the UK. The charge points offer safe and fast charging (7kW or 22kW) and are compatible with all electric cars.
Andersen charge points are the result of more than 75 years of technical experience. Using a simple interface their smart platform, Andersen KØnnect, enables you to monitor and control every aspect of the charge point from your smartphone or tablet. You'll receive alerts when charging is complete, able to lock the unit on and off remotely and will be able to see exactly how much energy you've used and what it's cost.
For more information on the complete range of solar compatible Andersen EV home charge points you can visit their website.
Electric Vehicles + Solar Power = The Future
Transport is now the biggest contributor to the UK's greenhouse gas emissions. The issue is so urgent that the Committee on Climate Change (CCC) has urged the government to improve on their current plans to ensure all new diesel and petrol vehicles are banned from 2040. The CCC has called for "more stretching targets" to ensure the majority of new cars and vans are electric by 2030.
Ben Vinyard at Waxman Energy says:
'Solar panel prices are not set to go down. The electronics are as cheap as possible, margins are low and modules are sold as low as the production cost in some cases. However, cobalt (an ingredient in lithium) prices are increasing and the expectation is that battery prices will rise. It's also reasonable to assume that if our energy prices continue to go up, the technology manufacturers that solve the problem have a reason to put their prices up too…
The time to buy solar and storage is today.'
---
 
Get Free Solar Panel Quotes:        Get quotes and compare prices.
 
---
Thanks to Ben Vinyard at Waxman Energy and Andersen EV for contributing to this article.
All images have been supplied by Andersen EV and feature Andersen EV home charge points for electric vehicles.