Energy Saving Scotland home renewables grant scheme ends 23 July – ACT NOW
The primary grant scheme for solar thermal water heating in Scotland is due to close before the end of the month, meaning you'll have to act fast to bag a grant to help cover the cost of installing solar thermal panels in your home.
Grants are a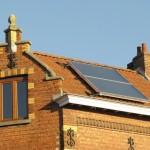 vailable to cover 30 per cent of the cost of an installation at your home, up to a maximum of £4,000. However, following the closure of the Low Carbon Buildings Programme – the only other remaining grant scheme that covered solar thermal water heating installations - back in May, Scottish home owners look set to play the waiting game alongside the rest of Britain until the Renewable Heat Incentive (RHI) tariff scheme is introduced in April 2011.
The Energy Saving Scotland home renewables grant scheme will close to all new applications at 5:30pm on Friday 23 July 2010 with all applications received beforehand dealt with on a first-come first-served basis until all the remaining funding has been fully allocated.
The grant scheme, which was set up in 2007 and has allocated a total of £7.4m of funding, will not be replaced as confirmed by the Energy Saving Trust (EST) in a letter to the renewables industry saying: "Continuing to fund grants is no longer sustainable given the increasingly tight constraints on the Scottish Government budget and therefore it is currently expected that the home renewables grant scheme will not be replaced."
SNP Energy Minister Jim Mather added: "The uptake of small scale renewables among householders is now unprecedented and the home renewables grant funding is facing pressure. The grants scheme will stay open to new applications until the remaining cash is allocated."
The closure and lack of a replacement scheme until the RHI is introduced in nine months time has angered many in the industry and Scottish Labour's Energy Spokesman, Lewis Macdonald, snubbed the move as a "great step in the wrong direction".
How to apply
If you want to apply for the Energy Saving Scotland home renewables grant scheme before 23 July then you can do so by downloading an application pack from the Energy Saving Trust website.
Alternatively you can call the EST on 0800 512012.
What you need to know before applying
This grant scheme applies only to residential buildings in Scotland - you must be the owner and resident of the property and be your principal private residence.
The grant is now available for businesses or leased properties including residential properties owned by businesses.
To be eligible for the grant you must have taken sufficient energy efficiency measures before applying. These include:

Loft insulation to 270mm where practical
Cavity wall insulation (where there are cavity walls)
Use low energy light bulbs in all appropriate fittings
Install basic controls on your heating system, including  thermostats and a programmer or timer for the property as a whole
Only products from a list of approved technologies are eligible for funding and must be installed by an accredited company from a list of approved installers.
Renewable Heat Incentive
The Renewable Heat Incentive (RHI) has been developed by the Renewable Energy Association (REA) to provide financial support to encourage homeowners, businesses and communities to switch to renewable heating technology and is due to be launched on 1 April 2011.
The aim of the incentive is to increase heating generation from renewable energy sources to 12 per cent which could potentially save up to 60 million tonnes of CO2 by 2020. Heating currently accounts for 47 per cent of the UK's CO2 emissions and 60 per cent of average domestic energy bills.
The RHI will pay a fixed amount per year to those who opt to change from heating systems operated by fossil fuels to renewable options such as solar water heating panels, woodfuel boilers or heat pumps.
The payments made will either be made on the exact amount of heat produced or on the amount it is anticipated the installation will provide. The former means you'll need to have a meter fitted to your system, in the same way as gas and electricity is metered, to account for the heat produced while the latter is paid on an estimate.
And unlike the Feed-in Tariffs for electricity-generating technologies launched this April which limits payments to installations with a maximum of 5MW, the RHI will apply to heat installations of any size.