"Rent a Roof" Schemes Dealt a Blow
The Energy Savings Trust (EST) has dealt a blow to the rent-a-roof scheme, after a recent review of solar technology has seen the organisation revise their estimated savings an average household would be able to save by installing solar panels.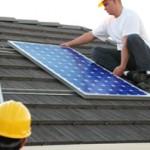 The EST had previously estimated the savings to households at around £120 annually. However, they are now claiming that a typical solar panel installation will cost up to £16,000 and save £70 per year, with up to £800 a year being earned through the feed-in tariff (Fit) scheme.
The admission will no doubt be seen as something of a knock back to the growing number of "rent-a-roof" schemes, which enable households to receive free solar panels in return for savings on their electricity bill. Many of these "free" solar schemes lock households into a 25-year contract, which means many householders are likely to be reluctant to take part, given the drop in savings to be made from the scheme.
"Rent-a-roof" schemes see the company that installs the panels – rather than the homeowner – generating income from selling the surplus energy back to the grid via the Government's feed-in tariff (Fit) scheme.
Index-linked for 25 years, the scheme currently pays 43.3p for every kilowatt hour the system produces, plus an extra 3.1 p per kilowatt hour as an "export tariff".