Solar Powering Employment in the UK
The solar power industry is helping to power the UK job market, figures released by the Renewable Energy Association have revealed.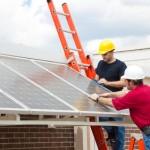 Excluding manufacturing and supporting roles, around 25,000 people are currently employed in the solar sector, with the Renewable Energy Association (REA) estimating that as many as 7,000 additional jobs could be created by April next year.
According to REA – the representative body of the renewable energy industry – the number of people working in the solar power industry is eight times more than it was, prior to the introduction of the feed-in tariff (Fit) scheme. And 80% of the jobs that have been created have been in the installation of solar power systems.
Figures, which have been compiled using membership data pertained from the REAL Assurance Scheme, reveal that some 4,000 solar companies are currently registered in the UK.
"Not only can this technology deliver the jobs and green buildings we need today, but costs are falling faster than any other energy generation technology in the world," commented REA director Stuart Pocock.
"By investing in UK solar jobs and companies today, UK companies can deliver a subsidy-free solar revolution to millions of consumers tomorrow," he added.
The news follows the revelation that the UK's solar energy capacity has grown by a massive 900% in just under 18 months. To date, 81,000 households have registered for the feed-in tariff, since the scheme was introduced.