Solar Project to Boost Employment in Staffordshire
Up to 100 new jobs are to be created in Stoke-on-Trent, following a deal to fit 4,000 council homes with solar panels.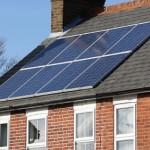 Energy provider E.On and maintenance firm Kier Stoke are the driving forces behind the project, which will provide a much needed boost to the local employment market, creating new jobs for electricians, roofers, scaffolders and even delivery drivers and storage workers.
Last year Stoke-on-Trent City Council agreed a £4 million deal with E.On to fit the solar panels. The creation of 100 new jobs is part of the city's Mandate for Change vision, which aims to attract thousands of new workers into Stoke-on-Trent by developing existing businesses and attracting new ones.
Councillor Mark Meredith, cabinet member for economic development, said the solar panel project will provide local people with the opportunity to learn new skills. and training people with existing skills to broaden their experience.
"It's about making sure people who have a certain set of skills can increase that breadth of knowledge and increases their chances of employment in the future," said Councillor Meredith.
Council properties in Blurton, Fegg Hayes and Chell Heath will benefit from the installation of solar panels, which it's estimated will help to cut annual electricity bills by around £100.
"The solar panels already installed have been well received and are part of a larger plan to increase fuel efficiency in the city," commented Councillor Gwen Hassall.
The council aims to take on 70 people, as well as 14 trainees and a support team of around 15 to fulfill the project – of which E.On is investing £2.3 million, with Stoke-on-Trent City Council bringing £1.8 million to the pot.