Solar panels make homes more attractive to buyers
If there's any doubt about the desirability of solar panels and whether or not they are off putting for potential home buyers, home owners who have installed a solar PV system should welcome the results of a survey by mortgage lender ING Direct.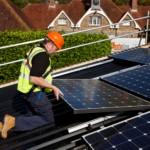 The survey took into account the opinions of more than 1,000 people when it came to "non-essential deal-stealers" and solar photovoltaic panels have come out top as the "most desirable property extra" amongst the British public when it came to home buying.
While a good 3G mobile phone signal, walk-in-wardrobes and weekly bin collections also featured prominently in the top ten list of desirable property extras, some 38% of participants said solar panels could be a deal breaker when it came to desirable property purchases. A satellite TV connection and a weekly bin collection also proved popular with 32% of those polled while 20% indicated the importance of a good 3G signal, 25% said a greenhouse could make a house seem more attractive for buyers and a garden pond secured bottom place with 15%.
The top ten 'wish-list' as revealed by the ING Direct survey is:
1. Solar photovoltaic panels
2. Weekly bin collections
2. Satellite TV connection
4. Greenhouse
5. Walk-in-wardrobes
6. Good 3G mobile phone signal
7. Giant bathtub
8. Outdoor power supply
8. Larder/pantry
9. Garden pond
Commenting on the results of the survey, Richard Doe, ING Direct chief executive said: "In today's housing market you often have to compete against your neighbours to make that sale. Price is obviously king, but knowing and promoting 'deal-sealers' can give you that vital competitive edge."
Currently there at least 360,000 residential properties in the UK that generate electricity from solar PV panels and interest in the technology continues to rise, fuelled not least by escalating energy bills as more and more people look at generating their own more affordable energy to cut their household costs and reliance on expensive fossil fuels, alongside their carbon footprint.