Clean up With BigBelly Solar Powered Smart Bins
Known as the BigBelly, solar powered bins have been popping up all over the UK and Ireland, and have even been littering the streets of Abu Dhabi and Saudi Arabia.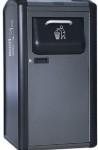 Reduced costs and improvements in efficiencies are great selling points and the BigBelly more than delivers. To date more than 10,000 BigBelly solar bins have been installed and more and more councils are catching on to the benefits of using the solar powered bins.
An ideal solution, particularly in tourist areas with a high amount of traffic, the bins are capable of holding up to eight times more rubbish than a typical street bin. The BigBelly reduces bin collections by as much as 70% and eliminates the nuisance of unsightly overflowing bins. The units are fitted with a SIM card, and upon reaching 85% capacity a text message or an email will immediately alert a council that they need to be emptied.
Back in 2010, Larne Council in County Antrim, Northern Ireland became the first local authority in the area to roll out the bins, initially deploying 19 of the solar bins. Last month a cash windfall enabled the council to delay an additional 17 more units.
Comprising of a BP solar panel which powers a 12v battery, which then is used to power an internal compactor, the BigBelly bins have been put through rigorous testing, having been trialled intensively over the past 6 years.
From Bournemouth to Blackrock, in streets and parks, stadiums and colleges, these solar powered bins are helping to clean up litter in a more cost-effective and efficient way, revolutionising street bin collections.
To keep up to date with all the latest BigBelly news follow @BigBellySolarUK on Twitter.