10 Cool Uses of Solar Cell Technology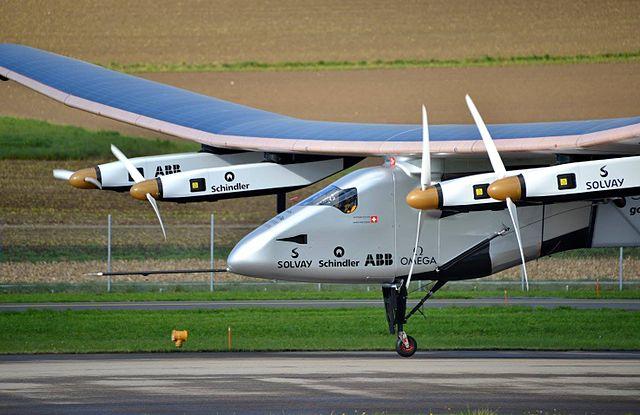 We're used to seeing solar cells protruding from roof tops. More and more, solar technology is finding its way in to everyday objects. But if we go beyond the normal solar panels for your home it also has its more obscure and unusual uses.
From solar powered planes and wireless solar keyboards, to solar powered bikinis and solar powered bins, one things for certain, there's a lot more to solar power technology than just solar panels on top of a roof!
Solar Guide takes a look at ten of the most unique, most innovative uses of solar cells when it comes to the renewable energy technology. It's very likely that we will see many more cool uses as solar panel prices have come down considerably.
Get free solar cell quotes for your home or business
10 Innovative Uses of Solar Power
1. Solar Cells on a Plane
Solar Impulse is a Swiss-built solar powered plane and features 12,000 solar panels on its wings. The experimental solar powered plane made its first test flight in December 2009. As wide as a jumbo jet and weighing around the same as a mid-sized car, the plane is even capable of flying in darkness.
2. Wireless Solar Keyboard
Designed by Logitech, the solar powered keyboard is wireless and it doesn't require batteries to operate it. Thanks to the integrated solar panels, the keyboard charges itself through natural light or artificial indoor light. Completely removing the need for batteries, it will stay charged for at least three months in total darkness.
3. Solar Paint
This technology is still very much in its infancy, but solar "paint" would have the same function as the large photovoltaic (PV) solar collectors. A new breed of chemical engineers are currently researching the technology, which would see a nanoscale mixture of photovoltaic components that can be sprayed or painted on to a number of surfaces.
4. Solar Powered Desert Structure
A design submission for the 2010 Land Art Generator Initiative Design competition, art and architecture have combined to create The Solar Energy Field – a sustainable structure designed by eco-conscious architect Michael Jantzen to produce renewable energy. On a sunny day, the solar panels are capable of generating up to 10 MW of electrical power for the local grid. The structure can also shelter visitors from the sun.
5. Solar Powered Stadium
Constructed in 2009, Taiwan's dragon-shaped sports arena was designed by Toyo Ito. Featuring a 14,155 sq metre solar roof, it generates 100% of its electricity through its 8,844 solar panels – enough to power the stadium's 3,300 lights and two jumbo vision screens. When the stadium is not being used, the extra energy is fed back into the local grid.
6. Solar Powered Mobile Phone Charging Stations
Known as the Strawberry Energy Project, a group of students in Belgrade have designed a public mobile phone charging station for The City Square in Obrenovac that runs on solar power. Inspired by modern dependence on smart phone technology, the Strawberry Tree charging station features a public resting place with a wrap around bench underneath a solar panel sheltered top. It's a perfect solution for charging drained mobile phones when you're away from home.
7. Solar Cell Pyramids
The Lunar Cubit is an award-winning design proposal and features a series of solar panel pyramids which form a renewable energy plant. It claimed the top prize in the Land Art Generator Initiative Design competition and comprises of an arrangement of nine pyramids – eight of which are arranged spherically around a central pyramid, and are covered in an array of solar PV panels. The solar powered pyramids will be able to generate enough power for thousands of homes in Abu Dhabi.
8. Solar Powered Artificial Plant
Developed by the National Institute of Advanced Industrial Science and Technology, a team of Japanese scientists have created an artificial houseplant that features leaves made from a high-efficiency organic thin-film solar cells. The team foresees the technology being used as eco-friendly power generators, which can be embedded into clothes, buildings, leisure goods and even toys.
9. Solar Powered Bins
The "big belly" is a new solution to waste management. Implemented by The Highland Council in Scotland, Inverness is trialing a bin that is 100% solar powered. It features an internal compactor which increases litter capacity by over eight times that of a normal street bin, and is completely self powered by a BP solar panel. For the bin to operate for one month it needs just 8 hours of daylight. The success of the trial will determine whether all 50 city centre litter bins will be replaced with the solar compactors.
10. Solar Powered Tent
Designed by Orange to celebrate the firm's 11th year at Glastonbury in 2009, the Chill 'n' Charge solar powered tent concept allows campers to recharge their essential camping gadgets. Providing 600 mobile phone charging points and free Internet access, the solar powered tent could well be the future of camping. Weaving specially coated solar threads into conventional fabric – rather than relying upon fixed panels – is a revolutionary new way of capturing energy from the sun.