Solar panels, EPCs and FITS
If you're thinking about installing solar photovoltaic (PV) panels to take advantage of the higher feed-in tariff rate, you'll only be able to do so if your home achieves an EPC rating of D or above. According to the Energy Saving Trust, around 51% of all dwellings fit into this category. Which means just under half don't meet the minimum standards of energy efficiency.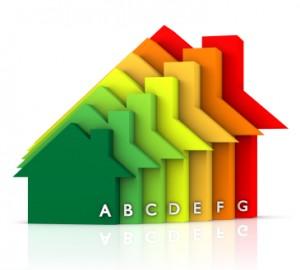 EPCs (it stands for Energy Performance Certificates) are used to provide information about the energy efficiency of our homes. A rating is given from A to G, which is determined by measuring energy use and carbon dioxide emissions produced.
The higher the rating the more efficient your home. While most newer homes have an EPC rating of B or C it's the older leaky houses, the hard to treat properties in the country, that fall into the lower bands.
Before you have your solar system fitted an energy assessor will need to visit your home to carry out an Energy Performance Report to determine how energy efficient your home is prior to the installation, and what rating your home will achieve once the system has been installed.
How to make your home more energy efficient
If your home doesn't come up to the required standards (that's a rating of D or above don't forget) even after you've invested in solar panels you won't be eligible to claim the full feed-in tariff  (FIT) rate, currently 14.9p/kWh. In these instances the FIT rate drops down to 6.61p/kWh (from January 2014) which for some won't be cost effective due to a lower rate of return. You can calculate potential payback by using the Solar Guide solar PV feed-in tariff calculator.
But all is not lost. If you've got your heart set on going solar there are ways to boost your EPC rating and get paid the full FIT rate for going green. It just means implementing a few more changes and upgrades around the home to make it more energy efficient, some of which don't cost the earth. They include:
Upgrading to a modern energy saving A-rated boiler replacement
Making sure you have loft and cavity walls insulated where appropriate
Fitting new energy efficient double glazing
Draught proofing your home by sealing up gaps around, doors, windows and pipework, etc.
Heating and insulation improvements, for example topping up your loft insulation (lofts need to be insulated to at least 270mm thick) and getting your cavity walls insulated is likely to increase your EPC by at least one band.
Installing solar panels will boost your EPC rating
As we've already mentioned, installing solar PV panels is a great way to boost your EPC rating to a minimum of D or above. And it's not as expensive as you might think, with solar panel prices starting from just over £4,000. You can get free quotes from Solar Guide's directory of approved MCS solar professionals.
An installer would carry out a survey to establish the current EPC rating, taking into account what the EPC would be after the solar panels have been installed. Remember your property has to have an EPC of at least D when you make your FIT application. Otherwise you won't receive the higher fit rate, regardless of whether you make further home improvements to make it more energy efficient at a later date.
A few facts about EPCs
You must have an EPC if you are renting or selling a property
EPCs last for ten years
Without an EPC and a MCS certificate you won't be able to register for FITS
EPCs are issued by domestic energy assessors aka DEAs
Solar installers can qualify as DEAs
EPCs were first introduced in 2007
Costs vary from £60 to £120