Homeowners Face New EPC Levels for Solar PV Installations
As part of the new requirements for Feed-in Tariffs from solar PV panels, the government now requires householders to upgrade their Energy Performance Certificates (EPC's) to level D.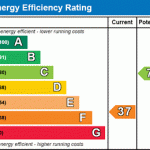 The new requirement will be effective from 1st April and will compel householders to improve their existing insulation and household energy efficiency in order to qualify for the tariff.
Energy Performance Certificates have previously been ignored by many estate agents who invariably regard them as undesirable bits of 'red tape'. However, the certificates measure the energy efficiency of buildings and they are compulsory if you intend to sell or rent a property. The certificates are currently assuming a new importance given the escalating cost of conventional energy drawn from fossil fuels such as coal, oil and gas, along with the government's commitments to carbon reduction.
As well being essential for Feed-in Tariffs with regard to solar panels, they will very shortly also serve as an important part of the government's Green Deal insulation scheme and the domestic version of the Renewable Heat Incentive which comes into force later this year.
In future, in order to claim your tariff, you will have to produce both the EPC and an MCS (Microgeneration Certification Scheme) certificate. In many cases the installation of solar panels by itself may be enough to raise the EPC to level D, but if not the energy efficiency of the building will have to be improved and the certificate upgraded before any substantial tariff is awarded. Failure to do so will result in the tariff being reduced to 9p per kWh and this will affect the rate of return obtainable from tariffs.