Solar more popular with British public than fracking
A YouGov survey, in association with the Solar Trade Association, has revealed that Brits are more in favour of solar farms than fracking, the latter of which has recently been highlighted by the media due to the ongoing protests at the Balcombe fracking site in West Sussex.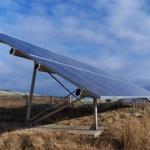 In a poll commissioned by the Solar Trade Association, which asked respondents to pick one local energy development they would rather have sited locally, YouGov found that people would far rather live near a solar farm than a fracking well. In fact as the results of the poll have revealed, Brits are seven more times likely to favour a solar farm over a gas fracking field.
Fracking is a method of recovering oil and gas from shale rock. Popular in certain circles – many MPs including the Prime Minister have publically stated their support for fracking – it's also pretty controversial, as many experts believe the process can cause small earth tremors.
Of the survey's 2,068 participants, solar power was the big winner, with 40% opting for a solar farm. Of the other energy developments wind farms came second, with 25%, while 10% chose a nuclear power station. Just 6% favoured shale gas fracking and boreholes.
Greenpeace UK chief scientist Doug Parr said it was time the Coalition Government started to listen to the British public: "Cameron and Osborne should start listening to what real people want from local energy rather than trying to turn English counties into their version of Dallas".
Commenting on the findings of their survey, Solar Trade Association CEO Paul Barwell emphasised the need for alternative sources of energy, particularly with fossil fuels running low and a rise in carbon emissions. He added that it was essential for solar to be at the forefront of attempts to decarbonise the UK's energy supply.
To learn more about the benefits of solar electricity read our guide to solar panel costs, benefits and savings.