West Sussex village raises solar power funding to beat fracking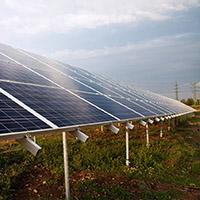 Residents of West Sussex village Balcombe have met their goal of raising £110,000 to help their home go solar.
Back in 2013 local residents formed a co-op called Repower Balcombe, in the wake of huge anti-fracking protests in the area. The group's aim was to take control of Balcombe's energy themselves, by providing 100% of the village's energy needs through locally owned solar. Unfortunately these plans faced a hurdle when the government made cuts to solar subsidies, however this didn't halt their ambitious plans.
A campaign was started to raise £110,000 in just three weeks to fund the installation of around 400 panels on two schools in the area, along with a solar farm which is being built by a commercial developer. Donations came in from across the UK, along with messages of support for the project and community. The target amount was successfully raised, meaning the solar installation project can go ahead.
UK climate change charity 10:10 was working with Repower Balcombe to raise awareness and the necessary funding for the project. On their website backbalcombe.org, the charity have explained that Balcombe is just the beginning when it comes to ditching fossil fuels 'Since the fracking furore in 2013, Balcombe has been the reluctant poster child for the UK's energy debate. What happens here reverberates around the world, and they've already inspired other places threatened by flooding and fracking to follow in their footsteps.'