Solar installers call for 'Deal on the Day' ban
A group of renewable energy installers are calling for the Government to ban so-called 'Deal on the Day' high pressure selling tactics which are once again threatening to blight the solar industry.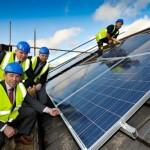 H2 Eco, a renewable energy specialist based in Poole, Dorset has teamed up with around 30 other solar installers and is calling on the Government to ban these types of bullying sales tactics employed by less reputable solar companies to secure an immediate sale. Although the REAL Assurance Scheme operates a code of conduct which renewable energy installers are expected to abide by, some so-called cowboy solar panel installers apply a very unethical approach when it comes to securing a sale.
The news comes after the Telegraph highlighted the plight of elderly and vulnerable consumers like Edwin and Christine Price from Dorset who had fallen victim to pushy sales tactics. A visit from a salesman representing a solar PV installer in the South West resulted in the couple handing over £1,125 after agreeing to sign up for a 'Deal on the Day' solar installation. After waiting more than a month for an installation date, the couple have since discovered that the company has gone bankrupt, leaving them out of pocket.
Like Mr and Mrs Price, David Caruthers was another victim of an aggressive salesman who subjected him to a full-on sales pitch which lasted almost 2 hours. In the end the 65-year-old handed over a £2,000 deposit just to get rid of him.
Commonly employed pushy sales tactics include salesmen outstaying their welcome and offering discounts if a customer signs up on the day. In fact this year alone the Office of Fair Trading has received a record number of complaints – a whopping 35,000 have been made in relation to doorstep traders.
In an open letter to Climate Change Minister Greg Barker and Jo Swinson, Minister For Consumer Affairs, H2 Eco director Mike Stephenson said: "We proposed that Government requires the Office of Fair Trading and Trading Standards to ban the signing of contracts in the home 'on the day'. This would be in the interests of consumers and therefore would further enhance our standing as honest, ethical and approved renewable energy experts."
He added: "Rather than place the onus on consumers to a) know their rights or b) make a formal complaint – why not make a simple and powerful rule: "no sales in the home or on the day of the first call".
The campaign has secured the backing of  award-winning renewable energy website YouGen. Commenting on the initiative, YouGen founder Cathy Debenham said: "Frankly, this change to the law is a 'no brainer'. No reputable company would expect a customer to sign up on the day for this kind of purchase anyway."
If you are a solar installer and would like to sign the petition you can do so be visiting www.epetitions.direct.gov.uk