YouGen Reveals Results of FiT Suppliers Survey
IMPORTANT notice about this article: Please note that the Feed-in Tariff (FiT) scheme closed to new applications on March 31st 2019.
Award winning social enterprise YouGen has revealed the results of its survey into which energy provider is the UK's best feed-in tariff supplier – and the worst.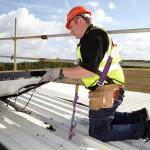 When energy consumers install renewable technologies, such as solar photovoltaic panels to produce their own green electricity, as long as the technology and the installer are registered under the Microgeneration Certification Scheme (MCS) the home owner is eligible to register the system for the Government's feed-in tariff scheme (FiTs).
FiTs are paid by energy providers (whilst most people tend to stick with their existing supplier you don't actually have to) – and YouGen has conducted a survey to determine how happy FiT customers are with the level of service they receive from their elected FiT supplier after registering their renewable energy system. The results indicated that more than half of those who took the survey were happy, with 36% rating the service 'excellent' and 26% 'good'. Ecotricity and Good Energy both received glowing reports with most of their customers rating their service as excellent.
However, whilst the smaller specialist energy companies were the clear winners, perhaps not too surprisingly the larger providers didn't favour quite as well. In fact, E.ON turned in the poorest performance, with 72% of its customers calling their service as a FiT supplier 'poor' (37%) or 'diabolical' (34%). One customer who took part in YouGen's research said they were still waiting for confirmation of their registration after five months while another E.ON customer reported a catalogue of errors ranging from using their registration to giving them an incorrect FiT number. On top of that it took nine months before they actually received their first payment.
According to YouGen founder, Cathy Debenham, the majority of complaints they receive tends to be in relation to how long it takes an energy provider to make the FiT payments. However in terms of the key components of good customer service, this didn't rate as high as it was expected and came in third position with 70%. Responding to emails (81%) and knowledgeable staff (78%) were both deemed to be more important.
Commenting on the results of the survey, Debenham said: "(It) leads me to believe that although payment time is what people complain about most, it isn't actually the aspect of the service that makes them happy or unhappy. If FIT suppliers have knowledgeable staff who answer the phone and respond to emails promptly, and register the system in a timely manner, then payment time is much less of an issue."
YouGen won a Green Web Award in 2009 for Best Green Living Advice website and was a finalist in The Observer Ethical Awards last year.