Solar feed-in tariff rates to fall from 1 July
As expected energy regulator Ofgem has confirmed that the solar feed-in tariff scheme will endure another modest cut from 1 July 2013, in keeping with the automatic degression model introduced by the Government last year as part of feed-in tariff revisions.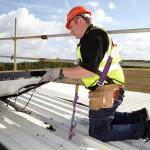 Despite solar photovoltaic installations in the 0-50kW capacity banding falling short of the capacity triggers which would normally instigate a reduction in tariff rates, a cut of 3.5% will be imposed for a three month period from 1 July until 1 October. Under the new nine-month rule – which sees cuts forced upon the industry if a banding's rates have remained unchanged for three consecutive quarters – it doesn't matter if deployment has been slow or not; automatic cuts will still be enforced even if installed solar PV capacity has fallen below the tigger point.
Therefore come 1 July domestic-sized installations up to 4kW will fall from the current figure of 15.44p/kWh to 14.90p/kWh. Systems ranging from 4-10kW will achieve a figure of 13.50p/kWh and systems between 10kW and 50kW will generate a payment of 12.57p/kWh.
Installations over 50kW have already had cuts of 3.5% imposed, which came into effect from 1 May as previously reported.
According to Ofgem 2013 to date has seen a more stable solar PV market in the UK. Over the last two months in the region of 6.6 MW and 9.2 MW of solar capacity has been installed each week, totalling around 35 MW a month.