Changes to solar feed-in tariff rates
As we first reported back in May, this month sees a small reduction to the solar feed-in tariff, with rates falling from 15.44p/kWh to 14.90p/kWh for solar photovoltaic installations up to 4kW in size. The new tariff rate comes into effect from today (1 July) and will remain in place until 1 October.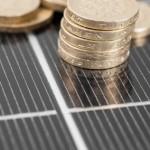 While households installing solar PV panels will be affected by the tariff reduction, it's not just domestic-sized solar systems undergoing cuts. Systems between 4kW and 50kW will also see their tariff levels drop due to the nine-month rule; this despite installations in these capacity bandings falling below the capacity triggers introduced by the Government as a means of instigating tariff cuts.
The installation of a 4-10kW solar PV system will now be eligible for financial feed-in tariff support of 13.50p/kWh. Systems ranging between 10kW and 50kW will qualify for 12.57p/kWh.
Despite the Government's imposed reductions, installing solar panels remains a worthwhile investment. Not only will you be able to earn a tax free income for 20 years, by generating your own renewable electricity you'll save money on your electricity bills.
If you're thinking of installing solar panels our solar PV calculator can estimate your payback profits from the feed-in tariff. For example, by installing a 3kW system, which costs £5,430 to install, during the first year you will earn £555, which includes savings on your electricity bill as well as income from generating your own electricity and an additional payment for exporting surplus energy back to the grid. Over the scheme's lifetime (20 years) you will achieve a profit of £13,395*.
With solar panel costs falling, which help combat feed-in tariff cuts, it's advisable to obtain three quotes from MCS solar PV installers. With prices starting from around £4,000 for a 2kW system, solar panels are no longer the expensive renewable energy solution they once were.
Solar Guide can provide free no obligation solar quotes from our directory of MCS accredited solar installers. Take advantage of the summer sunshine and extended daylight hours and arrange for your free quotes today.
*12.33% per year (6.22% AER)