Solar Excluded From Renewables Roadmap
The solar industry has been left frustrated and perplexed by the Government's decision to exclude solar photovoltaic (PV) technologies from its Renewables Roadmap.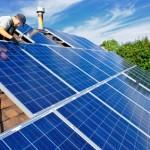 Published yesterday, alongside the Electricity Market Reform White Paper, central to the Government's Renewables Roadmap is a list of eight key renewable technologies "that have either the greatest potential to help the UK meet the 2020 target in a cost-effective and sustainable way, or offer great potential for the decades that follow".
The all-important eight technologies – which the Government expects will play a key role in helping the UK meet its target of generating 15% of energy from renewables by 2020 – include onshore and offshore wind, biomass electricity and biomass heat, and ground and air source heat pumps. Notably missing from the list are solar PV and solar thermal technologies, despite the Department of Energy and Climate Change (DECC) acknowledging elsewhere in the report that "the government believes solar PV could potentially have a role to play in large-scale UK renewables deployment in the future".
The report states that solar PV systems are currently more expensive than many alternative renewable energy technologies, but it acknowledges industry predictions that the technology will be able to compete on cost with conventional energy by the end of the decade.
DECC has defended the exclusion, insisting that the roadmap "focuses on the eight technologies capable of making the most significant yet cost-effective contribution to achievement of the 2020 target or our longer term ambitions".
Whilst some industry insiders were not surprised by solar's exclusion from the list of eight key renewable technologies  – given the Government's decision to slash feed-in tariff (Fit) incentives for large solar installations from next month – others have been left disappointed and perplexed.
Ray Noble of the Solar Trade Association (STA), said that solar's exclusion was "very disappointing", given that the report confirms the Government is in favour of solar technologies.