Denmark to smash 2020 solar energy target
Denmark's love affair with solar energy has increased at such a rapid rate that the country is on target to smash its 2020 solar target some eight years early.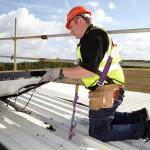 By the end of the year, Denmark should hit their 200MW target; a goal which was originally set for 2020. And with demand for solar power rising at quite an astonishing rate, by 2020 those figures could well be five times bigger than the original set target.
If any country has managed to bust one of the most common solar myths – that solar panels need sunlight to work – then it's Denmark. The country has a similar climate to the UK and isn't exactly known for an abundance of sunshine, even during the summer months. Yet solar PV panels work so well that the level of uptake, even amongst domestic installations, is beyond astonishing.
So what's the secret of Denmark's success? It's well known that the Danish have a penchant for innovative products, which in some way goes towards explaining the popularity of the renewable technology. Coupled with an established set of renewable energy programmes – wind is particularly very well developed – while other countries are struggling to meet their renewables and carbon emissions targets Denmark is smashing them out of the ball park. The country has a target of 50% electricity from wind by 2020, and is already more than half way to achieving that.
Solar demand is also driven, in part, by net metering; a programme which was established in 2010 and one that has seen much success. Essentially, homeowners get credit for any extra solar power produced by their rooftop solar system. If the homeowner uses less power or is out of the property during the daytime, their electricity meter will begin to spin backwards. Then, should they require that surplus power at any time they will be able to access it from the grid at a later stage, for free. Considering the shocking price of electricity in Denmark – in fact the country has some of the highest electricity prices in the world – the country's net metering scheme is one of solar's biggest selling points .
"The demand for solar cells has increased dramatically since net metering was implemented in 2010. Net metering gives private households and public institutions the possibility of 'storing' surplus production in the public grid, which makes solar panels considerably more attractive," said Kim Schultz, project manager for Invest in Denmark, which forms part of the country's Ministry of Foreign Affairs.
If the current rate continues, it is estimated that solar capacity could reach 1000MW by 2020 and 3400MW by 2030. Denmark aims to achieve 35% electricity generation from renewable technologies by 2020 and has set an ambitious goal of 100% by 2050. At this moment in time around a fifth of electricity is from renewables.