Solar Given 'Key Role' in Government's Updated Renewable Roadmap
2013 has got off to a decidedly positive start for the UK solar industry with the publication of the Government's updated Renewable Roadmap which sees solar given a key role to play for the first time ever.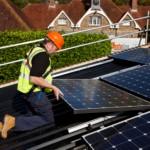 Published on 27 December by the Department of Energy and Climate Change (DECC) the Renewable Roadmap incorporates a list of green technologies which are set to play a pivotal role in helping the UK to hit its 2020 renewable energy targets. It's the recognition the solar industry has been waiting for and confirms that the Government has faith in the popular renewable energy technology and the part it will have to play in future energy generation mix. The European has set a target of 15% renewable energy generation by 2020, and according to the newly published roadmap the UK is on track to meet its first interim target.
The roadmap is predicting that by 2020 between 7GW and 20GW of solar panels could be installed.
Commenting on the Renewable Energy Roadmap Energy and Climate Change Secretary Ed Davey said is was a "fantastic achievement" that at least 10% of the amount of electricity generated in this country comes from renewable sources. John Hayes, Minister of State for Energy said he was fully of the opinion that a diverse energy mix was the best way to ensure energy security.
He added: "It is extremely encouraging that we have made such positive steps on renewable energy as part of that mix."
The roadmap highlighted the significant progress that has been made in rolling out renewable energy across the country, notably a 27% increase in the overall amount of renewable electricity generated between July 2011 and July 2012. In the same period there had been a 40% increase in renewable electricity capacity, with in excess of 10% of all electricity generated attributed to renewable sources. Solar PV capacity had also increased five-fold.
To complement the updated roadmap DECC is due to publish a Solar Strategy to help drive interest and uptake and will reflect industry and Government perspectives to determine the main challenges that need to be addressed and overcome in the deployment of solar photovoltaics. The Government will also be looking at the deployment of solar PV in other countries where solar is larger and more developed, with a view to learning valuable lessons from overseas markets as it strives to rejuvenate the struggling UK solar sector.
The roadmap also highlighted the falling cost of solar, noting that the costs to install many renewable energy technologies had dropped over the last 12 months. Solar PV had seen the most significant drop with the costs of solar photovoltaics benefiting from a 50% reduction.