Ricoh Launches Europe's First Eco Billboard
The first sustainable advertising hording in Europe has been unveiled by Ricoh today. Known as the 'eco board' it is powered by solar and wind energy.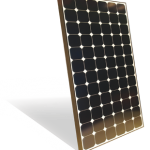 Located beside the M4 near London, Ricoh's 12-by-3-meter (39-by-10-foot) eco board is the first of its kind in Europe, as it taps in to both natural sources of power, and will only illuminate when sufficient power is collected. Powered by 96 solar panels and 5 individual wind turbines, it stands as a symbol of Ricoh's commitment to business sustainability, the company said.
Ricoh, a specialist in office solutions, made a similar splash when it unveiled its first 100% solar powered billboard in New York's Time Square last year. The company is listed as one of the Global 100 Most Sustainable Corporations and its new eco billboard sets a new standard for responsible advertising across the globe.
"Our ethos is to go beyond simply meeting regulatory requirements relating to sustainability by proactively promoting environmentally responsible practices in our own business and for our customers," said chairman and CEO of Ricoh Europe, Steve Saito.
"The launch of the eco-board takes us one step further by reminding wider public audiences to act in a sustainable way and think beyond the obvious when it comes to protecting natural resources," he added.
The board will use the same power in a year as 1.4 typical homes in the UK, according to Ricoh. It was developed by the Japanese companies Ad Gear Ltd. and Zephyr Corp.