Renewable Heat Incentive for Solar Thermal Hot Water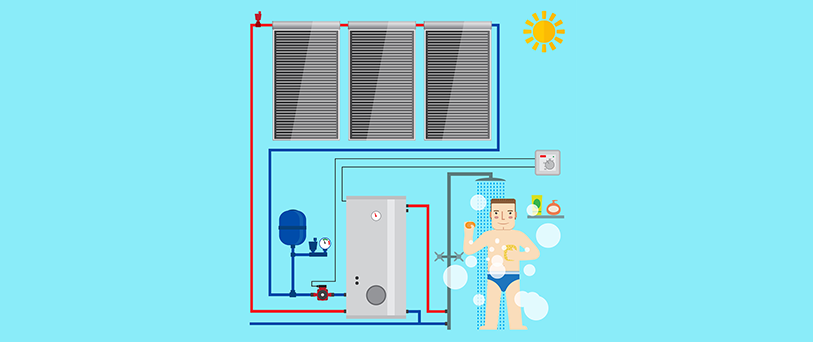 Did you know that in addition to reducing your fuel costs, installing solar thermal panels on your roof could earn you money through the government's Renewable Heat Incentive scheme? Here's how it works.
What is the RHI Scheme?
By installing solar thermal panels (or one of the other eligible renewable heating systems), homeowners, businesses, landlords, farmers, schools and hospitals in England, Scotland and Wales can earn money through the government's Renewable Heat Incentive (RHI) scheme.
---
---
The RHI payments you receive will be based on the estimated amount of heat your system produces (per kilowatt hour). Participants in the RHI scheme (who abide by its rules) will receive quarterly payments for 7 years based on the amount of renewable heat their system produces.
The RHI scheme was introduced in April 2014 in an effort to incentivise homeowners and businesses to reduce our usage of fossil fuels and our carbon emissions. The RHI tariff payments were intended to reimburse a proportion of the costs involved in installing renewable heating systems as they are typically more expensive than conventional fossil fuel systems.
RHI Scheme: Domestic and Non-domestic
There are 2 versions of the RHI scheme: domestic and non-domestic.
The domestic RHI is for homeowners who are installing a renewable heating system in their home (including self-builds) and private and social landlords where the heating system will be providing heat for a single household.
The non-domestic RHI is intended for commercial, industrial and public places such as schools and hospitals as well as for organisations operating district heating systems.
Which domestic renewable heating systems are eligible?
The RHI scheme is open to on and off-grid homes which install the following heating technology systems:
biomass only boilers and biomass pellet stoves for space heating or both space and domestic hot water (not only for domestic hot water)
air source heat pumps for space heating or both space and domestic hot water (not only for domestic hot water)
ground source heat pumps for space heating or both space and domestic hot water (not only for domestic hot water)
flat plate and evacuated tube solar thermal panels for domestic hot water (not space heating or heating a swimming pool).
You will need to have an EPC certificate which is less than 2 years old. Before buying solar thermal panels you should check that your chosen product is approved for the RHI (by checking Ofgem's list of approved products) and find an MCS certified installer to complete the installation.
---
---
How much could you earn through the RHI Scheme for solar thermal?
The RHI tariff you receive for the 7 year period will depend when you make your application to the scheme as the payments are reassessed every 3 months.
The first applicants who applied to the scheme in April 2014 are paid 19.20p for every kW/h of heat their system produces. Unlike the FiT tariff for solar PV panels which was steadily decreased until it closed in March 2019, the RHI tariff for solar thermal has increased every year since it was introduced. Solar thermal has also always been the highest earning of the renewable heating technologies.
| | |
| --- | --- |
| Period of RHI Applications | Solar Thermal RHI Tariff (per kWh) |
| 01.04.14 – 31.03.15 | 19.20p |
| 01.04.15 – 31.03.16 | 19.51p |
| 01.04.16 – 31.03.17 | 19.74p |
| 01.04.17 – 31.03.18 | 20.06p |
| 01.04.18 – 31.03.19 | 20.66p |
| Latest tariff (01.04.19 until at least 30.12.19) | 21.09p |
Your total RHI payments will vary depending on several factors including the size of your home and number of inhabitants, its EPC certificate and insulation levels and, of course, your lifestyle, i.e. how much you use your heating. The below table includes some average figures based on estimated figures but it should give you some idea of how much you might receive in RHI payments.
| | | | |
| --- | --- | --- | --- |
| | Estimated average heat demand per year (kWh) | Estimated Annual RHI Payments (21.09p per kWh) | Estimated Total RHI Payments Over 7 Years |
| Small (1-2 bed terrace or semi-detached) | 8,000 | £168.72 | £1,181.04 |
| Medium (3-4 bed semi-detached) | 12,000 | £253.09 | £1,771.56 |
| Large (4-5 bed detached) | v17,000 | £358.53 | £2,509.71 |
Are solar thermal panels worth it?
The cost of installing solar thermal panels depends on the number of people in your home and how much water you're likely to need, but the average system typically costs between £3,000 – £4,000. Industry recommendations suggest that you will need around 1m2 of panels per person living in the home.
It's important to note that these costs will also be impacted by the complexity of the installation, i.e. how simple it is to integrate the technology into your existing plumbing and the size and brand of your solar water cylinder.
However, you will also need to weigh up the cost of installation against the potential energy and carbon savings that a solar water heating system could deliver for you. The Energy Saving Trust give the below figures as an estimation but specifies that financial savings and carbon emissions will vary from household to household.
Depending on the type of fuel they are using to heat their domestic hot water at the moment, a family of 4 in a 3-4 bed semi-detached home with a medium heat demand of around 12,000 kWh per year could see the following financial savings by switching to solar panels.
| | | | | | | |
| --- | --- | --- | --- | --- | --- | --- |
| | Potential CO2 Savings per year | Potential CO2 savings over 7 years | Potential Fuel Bill Savings per year | Potential fuel bill savings over 7 years | Estimated Total RHI payments over 7 Years | Total Financial Savings over 7 years |
| Gas | 270kg | 1890 kg | £50 | £350 | £253.09 | £603.09 |
| Oil | 350kg | 2450 kg | £55 | £385 | £253.09 | £638.09 |
| Coal | 5450kg | 38,150 kg | £65 | £455 | £253.09 | £708.09 |
| Electricity | 390kg | 1,560 kg | £80 | £560 | £253.09 | £813.09 |
| LPG | 310kg | 2,170 kg | £95 | £665 | £253.09 | £918.09 |
Interested in solar thermal panels for your home?
If you think a solar thermal heating system could be the right choice for your home, your next step is to get quotes for installation. It's always best to compare prices and professional advice to make sure you get the right system for your needs.
We can put you in touch with up to 3 MCS certified (or equivalent) solar installers for free no-obligation quotes. Use our simple online form and get solar thermal quotes today.
---
---