Renewable Heat Incentive for Solar Thermal Hot Water
Please note: The RHI Premium Payment scheme closed at the end of March 2014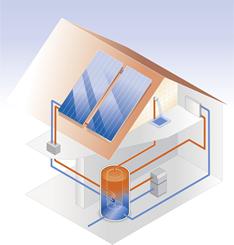 Homeowners, businesses and communities wishing to benefit from reduced energy bills and environmentally friendly technology will be able to do so through the Renewable Heat Incentive (RHI).
Get free solar thermal hot water quotes
The Renewable Heat Incentive is a Government initiative developed by the Renewable Energy Association (REA) where households in England, Scotland and Wales can receive tariff payments by installing renewable heat systems in their properties. As the eligibility of the scheme is dependent on the installation of a renewable heat system it is, in theory, open to everyone, including households, landlords, businesses, farmers, schools and hospitals.
Tariffs and payments
The Incentive, of which the domestic phase went live in April 2014, has been designed as a means to increase all UK heating generation from renewable energy sources. It pays owners for every kilowatt hour (KW/h) of renewable heating system produces.
On 11 July 2013 the Department of Energy and Climate Change (DECC) revealed that solar water heating will benefit from a minimum tariff rate of 19.2p/kWh. This rate now sits at 19.51p/kWh for solar thermal applications submitted before January 2016. The Renewable Heat Incentive also applies to other renewable heat systems such as heat pumps and biomass boilers. Visit Ofgem's website for a full list of domestic tariff rates.
Key aspects of the Renewable Heat Incentive
The scheme supports a range of technologies, including solar thermal, ground-source heat pumps and biomass.
It will support heating at all scales, including households, businesses, offices, public sector buildings and industrial processes in large factories.
The payment you receive will be based on the amount of heat your system produces. According to the Department of Energy and Climate Change, the tariff levels are designed to bridge the financial gap between the cost of conventional and renewable heat systems at all scales.
RHI Premium Payment
Please note: The RHI Premium Payment scheme closed at the end of March 2014, when the RHI went live. Renewable heating installations were supported by a 'RHI Premium Payment' to help people cover the purchase price of green heating systems. The amount for solar thermal for example was initially £300 per unit, rising to £600 in May 2013.
Those taking up the premium were eligible for the RHI tariff, as was anyone else who has had eligible equipment installed from July 15, 2009. The RHI Premium Payment covered technologies across all of Great Britain. There were clear eligibility criteria in order to qualify for a Premium Payment, including:
A well-insulated home based on its energy performance certificate
Agreeing to give feedback on how the equipment performs