Oxford solar glass company wins British Renewable Energy Award
A solar technology start up company in Oxford is celebrating after its innovative solar PV product has won a prestigious renewable energy award.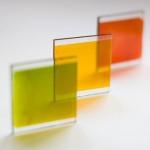 Oxford Photovoltaics – also known as Oxford PV – a Oxford University spin-off set up back in 2010 won the Innovation Award at light night's British Renewable Energy Awards 2013 in London. The company was recognised for its innovative glass solar panel technology which has the "potential to turn glass buildings into power stations."
Oxford Photovoltaics has managed to combine perovskite thin film solar cells with glass substrates, developing a tinted glass which is capable of generating solar power. Builders and architects will be able to utilise the solar glass technology for building facades, producing enough solar power for lighting as well as for powering IT infrastructure.
The award scooped by the technology start up will certainly give chief scentific officer Dr. Henry Snaith and his team of scientists just cause to celebrate. But it's not the team's only success story this year. Back in February Oxford Photovoltaics received £2 million of private funding from clean technology investor MTI Partners. And only last month the company announced it had managed to achieve a conversion efficiency of 15.4%, a considerable jump from 10.9% the previous year. Solar Photovoltaics is currently working towards commercial production.
Now into its 8th year, the British Renewable Energy Awards is organised by the Renewable Energy Association (REA) to promote and celebrate renewable energy advances in the UK.
Other big winners of the night include Repowering London, a not-for-profit organisation who won the Community Award for community-owned renewable energy projects and Good Energy who scooped the Company Award due to their continued commitment to excellent customer service and passion for renewable energy. It was a good night too for Solarcentury who went home with the Project Award for building the world's largest solar bridge at Blackfriars Station in London.