Funding boost for Oxford solar glass developer
A company in Oxford has received private funding for a new type of solar technology. The investment will contribute to the development of solar glass, which can be dyed in virtually any colour and is designed to replace existing glass in residential and commercial properties.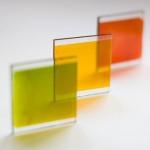 As Solar Guide first reported back in April 2012 the new glass technology is such an exciting prospect because it is capable of harnessing solar energy, which can be converted into electricity or heating.
Essentially a commercial offshoot of Oxford University, Oxford Photovoltaics is currently developing the technology with the aim of introducing it to the commercial market. On Tuesday, the company announced that MTI Partners, an investor in clean technology, agreed to invest £2 million in the promising new development.
Founder and CEO of Oxford Photovoltaics, Kevin Arthur, believes solar glass could eventually replace conventional solar PV in glass buildings because the additional cost is relatively low.
Mr Arthur said: "What we say here is rather than attach photovoltaics to the building, why not make the building the photovoltaics? If you decide to build a building out of glass, then you've already decided to pay for the glass. If you add this, you're adding a very small extra cost".
The clean-energy entrepreneur added that the additional cost of building a solar glass building would be no greater than 10 per cent. According to the Guardian, glass panels used in commercial and residential buildings cost between £600 and £1,000 for every square metre. The technology that Oxford Photovoltaics is developing, which is actually a treatment used on glass rather than an entirely new glass product, would increase construction costs by up to 10 per cent, so per-square-metre glass would cost between  £660 and  £1,100. Clearly, the cost of this new technology is far from prohibitive.
The new technology will provide the owners or occupants of glass buildings with an opportunity to enjoy clean, renewable energy. Savings on electricity and air-conditioning ought to be considerable. The solar glass should be capable of converting around 12 per cent of solar energy into electricity, which can then be exported to the National Grid or used throughout the building.
Mr Arthur noted that certain colours of solar glass would be more efficient than others. Black, for example, should absorb more sunlight than blue.