New solar cell coating under development at Oxford Uni
A team of researchers at the University of Oxford, who are developing a new solar cell coating, have been boosted by a cash prize which will significantly aid their ongoing research into solar PV technology.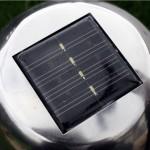 They will use the £25,000 funding from the Materials Science Venture Prize to develop a transparent zinc-based coating for solar panels. Most solar cells on the market are coated in indium tin oxide (ITO) but the problem with this material is that it's expensive. Indium sources are scarce and consequently are subject to volatile pricing.
The material is extremely versatile and aside from solar panels, indium is utilised in a wide variety of hardware, including LCD screens. By 2016 it's estimated that the indium market will be worth somewhere in the region of $26.8 billion. So it stands to reason that we need to find a cheaper alternative and zinc is a more widely available material compared to indium tin oxide.
It will also help the next generation of solar panels become even more affordable, as Professor Peter Edwards, who is the Head of Inorganic Chemistry at the University of Oxford, explains:
"Zinc is a much more abundant material than indium, and our silicon-doped zinc oxide material offers electrical conductivities around two thirds of ITO, with comparable optical transparency.
"In addition to solar cells, our new coating could be used with lighting displays and LCD displays used in smart phones, computers and televisions."