New solar PV kits launched by Sharp
Wrexham-based solar panel manufacturer Sharp has a new  solar product on the market – an all-in-one solar PV kit.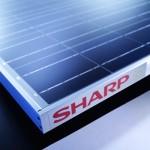 The UK is the first European country to have these solar PV kit systems made available. Sharp expects to have the product launched in its other European markets by 2013 but in the meantime the solar manufacturer is looking for suitable solar installers in the UK who would be interested in selling the product. Partners will benefit from expert training courtesy of Sharp, which will take place at their Academy in Wrexham, North Wales.
According to SolarPowerPortal kits will be available in a range of system sizes, from 1.5kWp up to 4kWp. But larger systems will be available on request. Kits feature PV modules, an inverter, mounting systems, AC and DC isolators, a DC cable with connectors and an export meter.
Commenting on the launch Andrew Lee, general manager, Solar UK at Sharp had this to say:
"The PV-Kit offering is a landmark move for Sharp. The UK solar market has been through a turbulent 18 months but, through innovating and adapting, the UK solar industry is well placed to grow.
"This is why we are shifting our business model to focus on PV-Kit systems, and we urge installers to work with us to get this industry back on its feet and standing tall once again."
The complete solar PV kit is just one of several new products Sharp will be launching this year, which can be combined with the solar kit. These include Home Energy Management Systems, a range of battery storage solutions and new concepts in LED lighting.