New Era For Clean Energy at Buckinghamshire Business Park
It's one of the UK's first large-scale solar projects, and after yesterday's announcement of the completion of phase one, Westcott Solar Park in Buckinghamshire is now switched on and connected to the National Grid.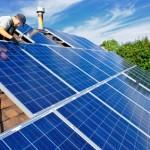 Situated on the runway of a former Battle of Britain airfield, the solar park has been developed by property company Rockspring, to provide power to the Westcott Venture Park. The plant will initially produce around 365,000 kWh per year, saving 70 tonnes of carbon and enough energy to provide over 15% of the electricity consumed by the 60 plus companies that work out of the business and office space in Aylesbury, Buckinghamshire.
The installation received planning permission for 1,500 solar panels with a combined capacity of 350kW back in November 2010. Construction by German solar park contractors Solon SE began in April and the system was energised and registered on June 22 before being connected to the grid this week.
Construction partner, James Flynn, said the deal represented one of the few large-scale solar projects to go ahead in the UK, after the Government announced its plans to reduce the feed-in-tariff (Fit) scheme for large-scale solar plants.
"We hope this will encourage others within the industry to follow suit, and that the project can be used as an example with which to encourage the Government to change its attitude to large scale solar projects," said Mr Flynn.
"At a time when many larger solar projects have been scrapped, this deal sends out the clear message that large European solar specialists like Solon remain dedicated to helping UK businesses develop renewable energy projects."