UK's Largest Solar Farm Now Up and Running
With 3,000 solar panels generating a quarter of its needs, Howbery Business Park – the UK's biggest solar energy farm – has begun generating electricity.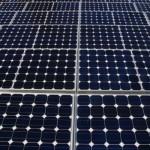 The first large ground system of its kind to feed into the National Grid, the solar farm in Oxfordshire is expected to generate up to 682MWh a year and will save 350 tonnes of CO2 in the same period.
In what could well be one of the last big solar farms in the UK for some time, following the recent review and cuts to the feed-in-tariff (Fit) scheme for large scale solar installations by more than 70%, Howbery Business Park is one of only a few business parks in the UK where occupiers are able to secure a direct electrical supply from a solar array.
Howbery Business Park's companies specialise in engineering, environmental and water research and development. John Ormston, the chief executive of HR Wallingford – which is based at the business park – said they were extremely proud of the park's green credentials.
"A centre of excellence with two highly sustainable, BREEAM Excellent rated office buildings and an operational Green Travel Plan, we are committed to leading the way in renewable energy and are proud to be showcasing the UK's first solar business park," said Mr Ormston.
The business park's array of 3,000 solar PV panels were supplied by Solarcentury, one of the UK's most experienced solar energy companies.
Solarcentury's chief executive, Derry Newman, said that the UK's famously overcast weather did not make it an unsuitable place for solar power, and despite the recent changes to the feed-in-tariff scheme, said he remains optimistic regarding the future of solar energy in Britain.
"This type of installation will be a relative rarity for a few years," Mr Newman said. "They will come back because tariffs and subsidies for solar are a necessary device to create the industry right now but the rate of change of price of solar is on a strong downward trend."
"Within a few years, the amount of subsidy needed will go down significantly. When that happens, more of these can happen with less cost and become more attractive to investors," he added.