Ministers Plan Change of Policy to Rescue Solar Jobs
Just as the Government announced late last week that subsidies for large-scale solar farms would be slashed in favour of domestic solar schemes, as part of its review of the feed-in tariff (Fit), it looks as though ministers are planning an abrupt change of policy.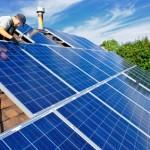 In a bid to rescue the tens of thousands of jobs and billions of pounds of investment promised by Britain's solar energy industry, which look set to be threatened by the recent cuts, the Financial Mail has revealed that the Department of Energy and Climate Change are working on plans to revive large solar farms by including them in the Renewable Obligation project - another Government  environmental subsidy scheme.
Their proposals to revive large-scale solar generation would use a different mechanism to encourage energy companies to buy more solar-generated electricity. An announcement on the size of the subsidy to large-scale projects is not expected to be made until the autumn.
The Government's plans to limit the highly successful scheme to small projects would, according to solar installers and manufacturers of solar panels, effectively 'kill the industry'.