Plan for UK's largest solar farm approved
Permission for the project submitted by Lark Energy has been approved by Charnwood Borough Council in Leicestershire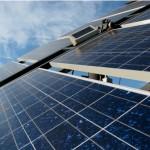 The proposed solar farm will be located on a former second world war airfield at Wymeswold and consist of some 125,000 solar PV panels providing 35MW of capacity. The solar panels will be arranged along the runways of the airfield with the rest of the site being used by a local kite club and as a driving track. The project as a whole will be financed by Hazel Capital and work on the £35 million project will begin sometime this month.
Lark Energy has worked closely with the landowner to ensure that the other users of the land can retain access as well as working with local parish councils and the community to develop the plans for the project.
"We are delighted to be involved in this large, first-of-its-kind project in the UK," said Ben Guest, Hazel Capital managing partner. "We believe that larger industrial sites make great locations for solar projects going forward in the UK"
The financing company expects the project to be completed by March 2013, just in time for the Renewables Obligation (RO), a government scheme intended to help support larger projects in the UK. The farm will be just one of several built recently in the country and joins several innovative projects completed in Suffolk, London and the north of England. Lark Energy is also planning to build a solar farm at Ellough Airfield in Suffolk. Other plans for solar farms in Suffolk and Leicestershire are in hand, having been announced in June this year.
A YouGov poll conducted in the UK discovered that 72% of the population want more investment in solar power.