Hive Energy aims to build nine solar farms in UK by 2013
The company also has plans for a further 108MW of capacity to be developed beyond April 2013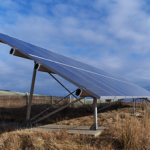 Hive Energy announced it is investing £72 million to build nine solar farms with a combined capacity of 60 MW and will also develop a further 108MW worth of projects currently in planning. The sites include the 15MW Pentylands Solar Park at Highworth, Oxfordshire, a 10MW development also in Oxfordshire and a 6.5MW array near Corston in Wiltshire. The first nine solar farms will be capable of producing enough energy to power more than 18,000 homes thereby preventing the release of 26,000 tonnes of carbon dioxide emissions.
The Hampshire company has raised almost three quarters of the funding for the projects from foreign investors, consisting of both institutional investors and companies already working within the solar power sector. The first nine farms should be operational before subsidies for solar installations larger than 5MW fall in April 2013 following the government's proposals to slash support by 25 per cent.
The Solar Trade Association (STA) has warned that deep cuts would risk a rush to complete projects before April which may in turn trigger a virtual collapse of the industry given that returns may then be too low to attract investors. It is proposing for more modest cuts of up to 1.8 Renewable Obligation Certificates (ROCS)/MW. Nevertheless the company is confident that it can press on with a further six large solar farms across Suffolk, Essex, Wiltshire and Devon. These projects, each with a capacity of between 10MW and 25MW, are currently in planning and could be operational by the end of 2013.
Tim Purbrick, Hive Energy's commercial director, has echoed industry arguments that more stability is needed in the government's policy if the UK really wants to raise its current level of 1.3GW of solar PV capacity to 22GW by 2020.
"If the government is serious about the target it needs to allow industry to plan in a sustainable way by giving us long-term certainty," he said. "There's great interest in the UK as a deliverer of solar PV… avoiding the lurch we saw with feed-in tariffs will allow the industry to grow."