Large-scale solar developers need to work closely with local authorities
There is a key role for large-scale solar power in shaping local renewables policy says the REA.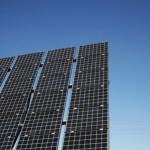 Developers of large-scale solar projects need to work closely with local authorities in order to avoid planning proposals being rejected. Councils throughout the UK are now drawing up specific policies on renewable energy in order to dictate what projects will be permitted in certain areas. It is highly possible that unless solar developers engage with this discussion they will see at least some of their proposals turned down by planning officers.
The Solar Trade Association (STA) held a meeting on this issue recently with a number of large-scale solar developers participating. The Senior Policy Analyst at the Renewable Energy Association, Mike Landy, explained at the meeting how new planning rules require councils to produce guidance on renewable energy policies in their local development plans, the frameworks used to consider planning applications.
"One of the key issues people need to be aware of is that planning decisions have to be taken in line with what development plans say," Mike Landy said. "In communications I have had with the Department for Communities and Local Government they are saying you need to make sure you talk to local authorities; they are under a statutory duty over the next 12 months or so to make sure they have a set of renewable energy policies in their development plans. And if those are not in line with what the industry wants, then that could end up being a major impediment as projects come forward."
Landy said that the government was expecting the industry to meet other interested parties in order to establish their own guidance.
"In some cases that's going to be extremely difficult, it's going to cause some tensions," Landy added. "But clearly government wants to back away from producing its own detailed guidance and is looking to industry to develop its own."
The STA is hoping to publish a best practice guide in order to help planning officers determine applications for large solar projects. The publication will be based on a similar document issued by Cornwall County Council which has had considerable experience in this issue given the county's high level of installations. The subject will become increasingly important over the near future as large-scale solar projects increase in number.
"We believe we need to develop a best practice guide for planners, because most planners who are now starting to get involved in large-scale solar don't understand solar, let alone large scale" said STA solar PV expert Ray Noble. "So a document they can refer to that would steer them in the right path would be a great help."