Manchester Couple Ordered to Remove Solar Panels
In what may sound like the opening stages of a backlash against solar panels, a Manchester planning authority has responded to a neighbour complaint against solar PV panels installed on an elderly couple's roof by ruling that the panels should be removed because they are dazzling to the eye.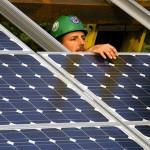 The bizarre complaint was made by a neighbour who argued that the panels, installed on the roof of a bungalow in Manchester's prosperous Prestwich district, were an eyesore. The local planning authority agreed, saying that the panels were 'too obtrusive and reflective' and they ordered the couple to either take them down or remove them to a north-facing roof, which of course would render the panels largely useless.
Fortunately, Jack and Carole Robinson, who are determined environmentalists throughout whose lifestyle includes the driving of a hybrid electric car, are not prepared to give in that easily, and most of their neighbours in the area support them.
The episode could potentially ruin the Coalition Government's ambition to encourage householders to switch to renewable energy if the case becomes a precedent, inspiring other local authorities to do the same. Mr Robinson branded the complaint 'ridiculous' saying:
"We have always tried to help the environment and I even invented a solar thermal to put on our house 40 years ago which heated the water. One government department has been pressing everyone to get solar panels fitted, and since we had ours installed our electricity bill has gone down by 50 per cent. Yet now we are being penalised by another government official for doing what we are told to do in the first place."
The solar panels cost £13,000 to install and the Robinson's are understandably annoyed, particularly when an appeal is likely to cost them a further £300. The couple were also told that any such appeal would probably be rejected.