Latest Ofgem FIT Figures Announced
According to feed-in tariff (Fit) figures released today by Ofgem, more than 45,000 installations were officially registered by Ofgem between 1 April 2010 and 30 June 2011.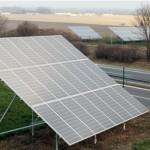 Of the 45,010 installations, it represented a total installed capacity equating to 163.5 MW that had been registered for the feed-in tariff, an increase of 55MW.
There has been a significant increase in the rate of installations, with figures revealing that more than a third of all installations were registered in the last three months alone.
Although no major surprise, solar continues to be the dominant technology, with solar PV panels accounting for the majority of installed capacity. With solar panels securing 74%, wind installations accounted for 15% and hydro came in third with 8%.
Looking at the regional breakdown, solar installations made up 98% of the total registered capacity in London and the South East. It was a similar story across most regions and counties, although Scotland was the exception, where solar PV accounted for only 17% of capacity registered for FiTs.
Ofgem's figures reveal that between 1 April 2010 and 30 June 2011, a total of £10,101,593.26 payments were due to be made to registered installations, including both generation and export payments.