Largest solar farm in the country to be built in Suffolk
One of the largest solar farms in the country is to be built on an old airfield near Beccles, Suffolk. The farm will cover 150 acres of land at Ellough airfield, an old World War 2 bomber base built by the US Air Force in 1943.When complete it should generate more energy in a year than the demand for homes in Beccles and Worlingham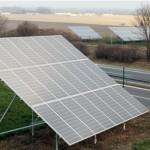 Lincolnshire company Lark Energy is hoping to submit a planning application for the site following a public exhibition and consultation. The company hopes that work on the farm will have commenced by the end of the year and when complete it will generate around 30MWp of renewable electricity capable of supplying 7,000 homes.
"The solar farm will provide local jobs during the construction phase and once operational, the maintenance of the site will need to be serviced by local companies" said Jo Wall, the development director at Lark Energy. "We're also aware of how close our proposed site is to the UK's largest solar roof installation at the Promens plant and the overall strategic aim for the Ellough Industrial Estate to provide local jobs in renewable energy. We hope that our plans marry with this and underline the local and Suffolk-wide commitment to renewable energy."
Since June 2011 the company has constructed 18MWp of solar farms throughout the country with over 100MWp of solar power currently under development. The new farm would consist of 125,000 solar panels covering 150 acres of land and the company is planning another project of similar size near Haverhill, however it also keen to ensure that its developments have the minimum possible impact on local communities. Although the site at Ellough airfield is close to a handful of residential properties the company intends that the panels should be hidden from public view if at all possible.
"The public exhibition provides us with an opportunity to talk with the local community about our plans and gather feedback before submitting any planning application" said Ms Wall. "We'd like as many residents to attend as possible."
The work will also include a traffic management plan to be agreed with Suffolk Highways looking in particular at concerns regarding lorries using the B1127 road between the A12 and Ellough.