Large Scale Solar Power Subsidies Face Drastic Cuts
The Government has confirmed that subsidies for large-scale solar power installations are to be drastically cut, as part of its long-awaited review of the feed-in tariff (Fit) for renewable energy.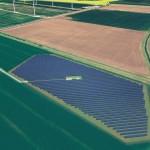 Funding of large scale installations is to be restricted, with the reform favouring domestic and other small-scale installations of solar power, of up to 50kw - typically enough to cover several houses but not enough for some of the community-scale installations some developers had planned.
Minister of State for Energy and Climate Change, David Barker said the Government had undertaken a wide-ranging review and consultation on the feed-in tariff.
"I want to drive an ambitious roll out of new green energy technologies in homes, communities and small businesses and the Fit scheme has a vital part to play in building a more decentralised energy economy," he said.
Come August, installations of solar power that are between 50 kilowatts and 150 kilowatts of capacity will receive 19p per kilowatt-hour produced, down from 32.9p. Larger installations of up to 250kw will receive a reduced tariff of 15p per kwh and field-size installations of between 250kw and 5 megwatts of capacity will get half that, at 8.5p per kwh. Both larger sizes were previously paid 30.7p per kwh.
Barker went on to say that the amounts devoted to feed-in tariffs should be changed because if larger scale installations received the same level of support as domestic scale installations, the system would be "overwhelmed".
The changes announced confirmed expectations in the renewable power industry, with ministers indicating back in February their desire to restrict funding to large scale installations. But funding remains available for households as the cuts favour domestic and other small-scale installations of solar power.
The feed-in tariff was introduced in April 2010 and has generated enormous interest among the solar industry. In the first year of the scheme's operation, more than 30,000 solar panel systems were installed, compared to a few hundred in previous years.
The Department of Energy and Cimate Change said on Thursday that the tariffs were cut because of the potential cost to energy bill-payers. According to government calculations, a field-size system of 5 MW would reap subsidies of £1.3m per year. Twenty such schemes would receive subsidies equivalent to that of about 25,000 households.
A further consultation on feed-in tariffs will be launched later this summer, with more changes to the scheme to take effect from April 2012.
Responding to the news of the cuts, Howard Johns, chairman of the UK's Solar Trade Association, said the move couple cripple the UK's fledgling solar panel industry. "Crushing solar makes zero economic sense for UK plc because it will lose us major manufacturing opportunities, jobs and global competitiveness."