Solar subsidies to end by 2020?
By 2020 solar subsidies could be no more. That's what the future holds for solar in the UK according to a leaked email, The Telegraph is reporting.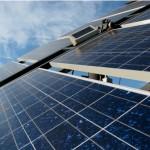 The Government wants to eventually phase out subsidies which are paid out to firms who generate renewable energy by way of onshore wind farms, and it seems solar PV panels are also on that hit list.
The email, which gives a clear insight into the Government's long term plans for renewable energy subsidies, was written by cabinet office minister Oliver Letwin. Mr Letwin was responding to correspondence from Terry Stewart, the president of the Dorset branch of the Campaign for the Protection of Rural England, who was concerned over plans to erect 160 wind turbines in Dorset.
In the email, which has been seen by The Telegraph, Mr Letwin said subsidies for both wind and solar would be phased out by the end of the decade.
"I anticipate that subsidies for both solar photovoltaic and onshore wind will come down to zero over the next few years and should have disappeared by 2020, since both of these forms of energy are gradually becoming economic without the need for subsidies," he said.
The renewable energy industry believes that both onshore wind and solar PV are capable of achieving grid parity by 2020, providing once and for all that both technologies have the potential to compete with traditional fossil fuels without needing a helping hand from subsidies. For any renewable technology to become independent of these incentives, it essentially should see an increase in demand for the technology.
Renewable energies deemed to potentially be capable of reaching grid parity and taking on expensive fossil fuels at their own game clearly has a pivotal role to play in future energy generation for the UK. So this news should be a boost to the solar industry, particularly since the technology was omitted from the Government's Renewable Energy Roadmap.
Commenting on Letwin's email, the Department of Energy and Climate Change said they always aspire to end subsidies for any energy.