Green Energy UK Direct Awarded £1.5m Solar Contract
A green energy company that specialises in installing solar photovoltaic panels has broken through the £1m monthly sales barrier.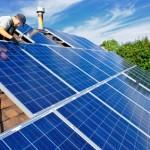 Based in Cheadle, Green Energy UK Direct advises on eco-friendly microgeneration systems, such as solar photovoltaic (PV) systems and wind turbines for commercial and domestic sectors. Established only 18 months ago, the company has grown from a two man operation into a 50 strong team of engineers and sales staff.
Green Energy UK Direct has just been awarded a £1.5m contract to install 2,500 solar panels across the roofs of four factories run by Manchester Cabins, a temporary and portable buildings firm in Oldham.
Founder Steve James says the company currently has tenders for £7m worth of business on its books, and showing no sign of slowing down, despite the recently announced cuts in Government's feed-in tariff (Fit) scheme subsidies for large-scale solar schemes.
Mr James is confident that smaller firms and domestic customers would continue to drive industry growth.
"The Government has recently reduced from 30p to 19p large tariffs that were available for the commercial farming of solar energy to stop very big companies taking advantage of the scheme," said Mr James.
"But even at that rate it is still very rewarding for business and with electricity and gas prices rising firms are thinking about how they can protect themselves and budget for the future.
He added that costs for electricity usage are never going to go away – and costs of sourcing from the National Grid are only going to increase.